On-Hold Messages for Educational Institutions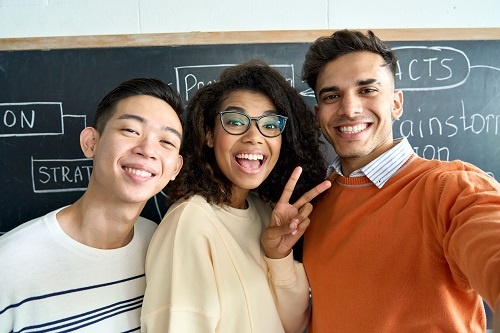 Teaching is the fundamental purpose of every educational institution, be it a rural elementary school, a vocational college, or a state university. But the learning process isn't limited to the classroom. Education opportunities can arise in a wide range of environments, some of them far removed from a formal setting. Take on-hold messages, for example. While you may have never considered these pauses as platforms for learning, they can be an ideal stage for presenting information, transforming what might otherwise have been wasted minutes into a productive session. After all, callers on hold are a captive audience. Well-crafted messages can ensure they're also a captivated one.
At Worldly Voices, we have a quarter-century of experience recoding on-hold messages for educational institutions of all types. When you turn to us for your voice recording needs, you'll be enlisting the services of more than just a vendor. We'll work with you throughout your project to ensure you're entirely satisfied with your on-hold messages. We're your partner in success, and that's not an empty promise. It's simply how we do business.
Never a Dull Moment
As part of our personalized service, we'll provide as much or as little guidance as you need to achieve all your communication goals. On-hold messages for educational institutions can focus on a wide range of topics, including:
Location and hours of operation
Recent faculty additions
Clubs and sporting events
Holiday closings
Admission requirements
How to request transcripts
Financial aid resources
Curriculums and specialized programs
Immunization policies
If you're happy with the on-hold messages you've scripted, you can upload them here for a complimentary price quote. If you're in need of a little inspiration or just want another set of eyes to look them over, we can provide sample scripts or offer feedback on your work-in-progress. When they're ready for production, you'll be able to choose from among our pool of seasoned voice professionals. We'll then record your messages at our professional studio, optimize them for their intended platform, and deliver them in the non-proprietary format of your choice.
On-hold messages for educational institutions are a great way to turn idle minutes into teachable moments. Reach out to Worldly Voices today to get your project underway.