Professional Voice Recording Services for Florists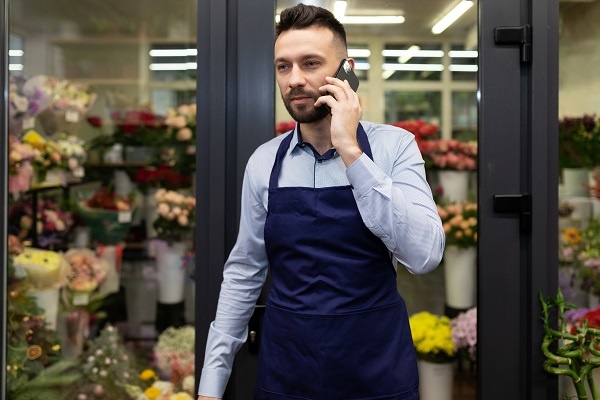 Being a florist is no bed of roses. From inventory to artistic inspiration, marketing to equipment maintenance, the challenges of keeping a floral shop flourishing are as plentiful as petals on a daisy. And that's not mentioning the never-ending battle to compete with the big national chains and their looming online presence. Running a successful business requires using all the tools available to keep your market share growing even when conditions are less than ideal. A robust and well-planned automated call center can be a vital bridge between you and your customers, facilitating efficient communication, disseminating useful information, and providing another way to place orders in addition to your online system. A professional, pleasing, and articulate voice is as important for an auto attendant as appearance is for a website. But who can you turn to for first-rate voice recording services for florists? Worldly Voices, that's who! For more than a quarter-century we have been the company to turn to for professionally recorded voice tracks, not only for telephone systems, but also multimedia productions, e-learning seminars, and more.
The Voice of Experience at Your Service
What makes our voice recording services for florists stand out from the crowd? We offer a high level of experience and expertise coupled with the personalized attention required to complete your project on time, within budget, and to your complete satisfaction. Whether you're setting up a call center for the first time, expanding or updating an existing one, or switching to an entirely new system, our team can provide the guidance you need to create the perfect arrangement. We've worked extensively with all of the most-used interactive voice response (IVR) systems on the market, including those made by Altigen, RingCentral, Mitel, and Vocantas, so you can rest assured the audio tracks we record will integrate flawlessly into your call center. We can also offer suggestions on organizing your menu tree to optimize efficiency and ease of use.
Our telephony voice recording services include:
IVR Prompts
Prompts are the signposts that guide callers to their destination. Well-crafted prompts anticipate your customers' most likely questions and provide ready answers. We understand how challenging that can be. That's why our staff will be happy to review the prompts you've written (yes, that part is up to you), and offer feedback. Once you're happy with your script, we'll record your audio files at our professional studio and optimize them for their intended platform before delivering them to you in the non-propriety format of your choice. And unlike other voice recording studios, we charge by the prompt rather than the hour, so you'll never have to pay for unused studio time.
On-Hold Messages and After-Hour Greetings
Of course, auto attendants are more than just IVR prompts. Worldly Voices can also record on-hold messages and after-hour greetings. Like our IVR prompt services, we can review your work-in-progress and offer suggestions so your script is as polished as possible before recording. We can also offer sample scripts if you're looking for a little inspiration. And like all of our recording services, you'll be able to choose from our pool of seasoned professionals to find the voice that's the perfect representation for your business.
Other Voice Recording Services
In addition to voice recordings for automated phone systems, Worldly Voices can record voiceovers for multimedia productions such as training seminars, in-shop displays, and website videos. And for an additional fee, we can also translate and record your audio files into any of the world's most-spoken languages, including Spanish, French Canadian, German, and Hindi.
Don't let your call center nip your prosperity in the bud. Reach out to Worldly Voices today to learn more about our voice recording services for florists. With 25 years of experience and a proven track record of success, we'll help ensure your business is always in full bloom.