Medical and Pharmaceutical Voiceover Productions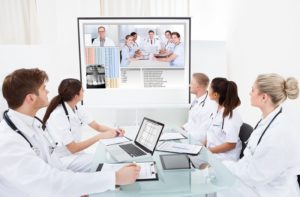 The healthcare industry is one of the fastest growing in the nation, and the need to communicate effectively with medical professionals and laypersons alike is also growing. E-learning and other multimedia presentations are a big part of this process, and compelling narration can help ensure complex information is conveyed clearly, articulately, and with a high degree of precision. It's not a job for anyone who is only casually familiar with medical terminology. Tongue twisters are common, and the differences between similar-sounding terms can be subtle.  Partnering with a voice recording studio that has years of experience working with clients in the medical field is the first step to ensure your multimedia production is a complete success, and at Worldly Voices, we've been making medical and pharmaceutical voiceover productions for more than two decades.
Just What the Doctor Ordered
When you turn to Worldly Voices for voiceover services, you'll get far more than just an audio recording of your script. You'll receive a level of personalized attention few other companies can match. Our friendly and knowledgeable staff will work with you from first contact to the completion of your project to ensure your experience with us is as productive and stress free as possible. To that end we will:
Provide a free quote for your project – just upload your script here
Record your narration at our studio in Nashville to ensure your audio is of the highest sound quality
Offer a pool of seasoned voice professionals to choose from, all of whom have extensive experience with medical voiceover productions
Optimize your files for their intended media platform – computer, mobile, cellular, etc. – and deliver them in the non-proprietary format of your choice
Complete your project on time and within budget
And, if you want to expand your audience to those who do not speak English, we can provide certified translation services for all of the world's most-spoken languages, including Spanish, Hindi, Mandarin, German, and many others.
Whether you're working on a presentation about a surgical innovation, drug study, technological breakthrough, or this year's new flu strains (talk about a viral video!), the company to turn to for medical and pharmaceutical voiceover productions is Worldly Voice. Contact us today to learn more.