For Expert Medical Narration, Turn to the Pros at Worldly Voices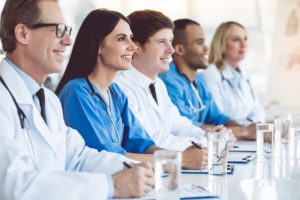 When it comes to voice recording productions, medical narration is among the most challenging. The terminology can be a mouthful, with multisyllable, Latin-rooted words often coupled together like boxcars on a mile-long freight train. From aceruloplasminemia to uvulopalatopharyngoglasty, the oratory skill and precision required to properly pronounce these medical tongue twisters is nothing short of total verbal mastery. At Worldly Voices, we have decades of experience recording medical narrator hospitals, pharmaceutical companies, and other clients in the healthcare industry. We have an in-depth understanding of what's required to ensure the production process runs smoothly, accomplishes all of your communication goals, and is completed in a timely manner.
Medically Speaking, Our Services Are Always First-Rate
Our pool of seasoned voice professionals can provide clear, articulate medical narration for a wide variety of projects, including:
Clinical trials
Training videos
E-learning medical courses
Multimedia productions such as medical animation
Web promotions
Medical conferences
Pharmaceutical product launches
We can also record interactive voice response (IVR) prompts and on-hold/after-hours messages for pharmacies, clinics, and doctors' offices. And, if your medical narration needs to reach a global audience, we offer certified translation services in all of the world's most-spoken languages. What's more, we'll record your project at our professional voice-recording studio in Nashville, so you can be confident your audio files will be of the highest quality, free of distortions, background noise, and variations in volume. We'll also optimize your audio files for the specific platform they'll be accessed through – mobile devices, computers, landlines, etc. – and deliver them in the non-proprietary format of your choice.
If you have a medical narration project that's ready for recording, you can upload your script here for a free quote. Our friendly and responsive staff will make sure your production stays on track and on budget. When you turn to Worldly Voices for your medical narration needs, the prognosis will always be for an excellent outcome.