Customized IVR Prompts for Doctors' Offices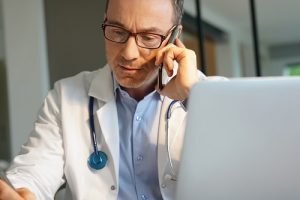 Running a doctor's office is a little like juggling plates. There are a lot of moving parts and even one slipup could have serious repercussions for both you and your patients. Keeping the lines of communication open can go a long way toward ensuring everything runs smoothly. And while online scheduling tools are growing in popularity, most people still prefer picking up the phone and calling your office to make or change an appointment, request prescriptions, ask about insurance, and make myriad other inquires. Your staff can field many of these calls, but they have other duties as well, and when volume is high, patients may have extended waits before they can speak with someone. An automated call center can alleviate bottlenecks by routing patients to their desired information quickly and efficiently, in many cases without the need to talk to a live representative. At Worldly Voices, we specialize in providing a wide range of voice recording services for automated phone systems, including customized IVR prompts for doctors' offices.
Going the Distance for Our Clients
For more than two decades, we have been the company to turn to for professionally recorded audio files that transform a standard auto attendant into a finely tuned system fully personalized for your specific needs. When it comes to IVR prompts for doctors' offices, Worldly Voices offers many benefits over other voice recording companies, including:
Extensive experience with all of the most popular IVR systems, including those manufactured by Altigen, Vocantas, Mitel, and ShoreTel
A pool of seasoned voice professionals to choose from
High-quality auto tracks recorded at our studio
Available help organizing your menu tree
Sample scripts upon request
Pricing by the prompt rather than the hour, so you never have to pay for unused studio time
What's more, we'll optimize your audio files for their intended platform and deliver them in the non-proprietary format of your choice. We can also translate and record your prompts in Spanish or any of the world's most-spoken languages.
To get started on your project, reach out to Worldly Voices today. One of our friendly representatives will be happy to answer all your questions about our IVR prompts for doctors' offices.