Professionally Recorded On-Hold Messages for Hospitals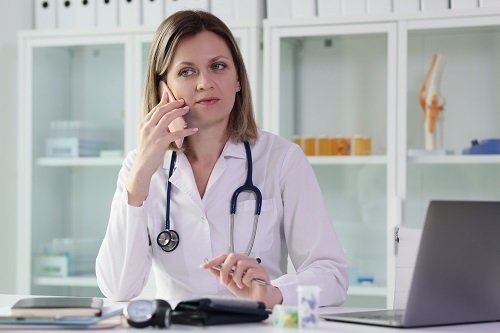 The number of calls fielded by even small hospitals can be significant. With multiple departments networked in a complex weave of healthcare services, callers may be routed to several desks before completing their business, adding to the complexity of each interaction. A well-coordinated combination of live representatives and automated messages makes this high-volume collaboration more manageable for staff and efficient for patients. And while no one likes being put on hold, delays are usually inevitable. But that doesn't mean these pauses have to be a limbo of bland instrumental music and looped apologies for the wait. Informative on-hold messages can keep callers engaged and better prepared for when a live representative returns to the phone.
At Worldly Voices, we are the company to turn to for professionally recorded on-hold messages for hospitals. We have a long and productive history of providing voice recording services for all manner of healthcare facilities, from walk-in clinics to major trauma centers. Whether you need to update a few dozen of your current on-hold messages with new information or are upgrading and expanding your entire call center, our friendly staff will work with you to ensure your project is completed on time, within budget, and to your complete satisfaction.
The Prognosis Is Always Positive When You Partner With Worldly Voices
With more than a quarter-century of experience producing voice recordings for interactive voice response (IVR) systems, Worldly Voices is one of the most vetted and respected companies in the industry. When you partner with us, you can expect a thoroughly professional and productive experience that includes:
A pool of experienced voice professionals to choose from
Competitive rates
Speedy project completion
All audio files recorded at our professional studio and optimized for their intended platforms
We can also provide sample scripts if you need inspiration and review your messages to ensure they're polished and ready for recording. And for an additional fee, we can translate your on-hold messages into any of the world's most-spoken languages.
Don't let your patients languish in the telephone version of a dreary waiting room. To learn more about what makes Worldly Voices the smart choice when it comes to on-hold messages for hospitals, reach out to us today.