On-Hold Messages for Hotels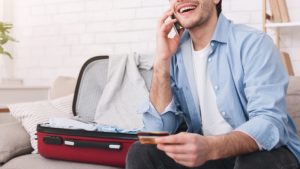 On-hold messages are terrific marketing opportunities for hotels. Callers waiting to speak with a representative are a captive audience. Why not put those seconds or minutes to good use by giving them something engaging and informative to listen to? At Worldly Voices, we have decades of experience producing and recording on-hold messages for hotels. Whether you're a boutique chateau, New England bed-and-breakfast, or national chain, we can help you make the best impression possible with your callers.
Putting Out the Welcome Mat for Our Clients
As one of the most experienced voice recording companies in the industry, Worldly Voices brings an exceptional level of knowledge and expertise to the table. Our staff is friendly, responsive, and ready to do what's necessary to make your project a complete success. We pride ourselves on setting the standard when it comes to:
Personalized service – Our staff will go the extra mile to make your experience with us as productive and stress free as possible. If you need help polishing your on-hold messages, for instance, we can provide sample scripts for inspiration or review your script-in-progress and offer feedback.
Professionalism – Our pool of voice talent is made up of consummate professionals with years of experience in the industry. What's more, our producers have a wealth of experience with all of the most-used interactive voice response (IVR) systems on the market, so you can be confident the on-hold messages we record for your hotel will be easily integrated into your call center.
Quality productions – Because we record our messages at our studio in Nashville, they're always of the highest quality, free of hiss, distortions, breath inhalations or other distractions. We also optimize our audio files for their intended platform and will deliver them in the non-proprietary format of your choice.
From highlighting local attractions to listing room amenities, on-hold messages for hotels are a way to inform, engage, and even entertain your callers. Contact Worldly Voices today to learn more about our voice recording services. And if you already have a script you're happy with, you can upload it here for a free price quote.