On-Hold Messages for Medical Offices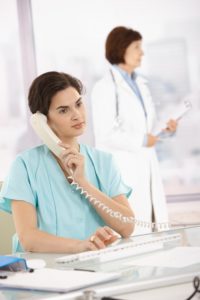 Healthcare providers usually go to great lengths to ensure patients have quick and easy access to important information regarding their services. Even in today's increasingly internet-dependent world, a phone call is still the most common way to accomplish this. But there are limits to how many calls can be answered at any one time. That's why on-hold messages are so important for medical offices. Giving callers something to listen to other than music while they wait to speak with a representative can make the exchange of information much more efficient and satisfying for both your patients and your staff. It can also improve caller satisfaction and build a stronger patient/provider rapport.
Listen and Learn
If you're a medical professional and want to ensure your patients are fully engaged throughout their call, the company to turn to is Worldly Voices. As veteran voice recording professionals with an in-depth understanding of the healthcare industry, we have decades of experience producing on-hold messages for medical offices. If you have a script you're happy with, you can upload it here for a free price quote. If you're setting up a phone system for the first time or would like a little guidance on what kind of messages to record, we can offer suggestions. A few of the more common are:
Instructions on what information to have on hand when a representative comes on the line
Your office hours, location, and website address
Information about doctors and their credentials
Descriptions of the medical services you provide
Health-related tips and interesting facts
Reminders about scheduling vaccinations and annual checkups
You'll be able to choose from a pool of seasoned voice professionals, and we'll record your on-hold messages at our studio, so you can be confident they'll be of the highest quality. We can also provide certified translation services if you'd like to deliver your messages in more than one language.
Additional Voice Recording Services
On-hold messages are only one of the many phone-related services we can provide. Whether you're expanding, revamping, or setting up a call center for the first time, our friendly and responsive team will be happy to help guide you through the planning and implementation process.
IVR Aficionados
Interactive Voice Recording (IVR) systems have become a primary means of communication for many healthcare facilities, including doctors' offices and pharmacies, and the building blocks of these call centers are the prompts that guide callers to the information they're seeking. Worldly Voices has recorded well over one million of them, making us one of the most prolific IVR prompt providers in the nation. With an in-depth understanding of all of the most popular systems—including Vocantas, Pronexus, Broadworks, and Mitel—we can provide valuable insights for optimizing your system to ensure maximum efficiency.
What more, unlike many other companies that charge by the hour, we charge by the prompt, thus eliminating the possibility of having to pay for 50 minutes of unused studio time if your recording session happens to extend briefly into the next hour.
Compelling Voiceovers
We can also record narration for a wide range of multimedia productions, including training videos, e-learning courses, PowerPoints and more. The medical field is no place for the inexperienced. With tongue-twisting terminology and a plethora of similar sounding words that can have vastly different meanings (intubate/incubate, e.g.), precision and proper pronunciation are imperative. Our voice professionals can deliver even the most challenging narration with assurance and clarity. You can rest assured with Worldly Voices in your corner, you'll always be able to connect with your audience.
A Prescription for Success
To learn more about our on-hold messages for medical offices, pharmacies, and other healthcare providers, contact a member of our staff today. We'll be happy to answer any questions you have about Worldly Voices or our services.