Voice-Over Recordings for E-Commerce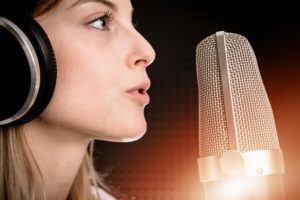 E-commerce is growing by leaps and bounds every year. Fast, convenient, and open 24/7, the internet has become the global marketplace of choice for more than a billion users. Of course, with increased popularity comes increased competition. Alluring pictures and compelling text can go a long way in promoting your product, but to make your online marketing stand out from the competition, you need to use all available tools in order to connect with potential customers. That includes voice-over narration for multimedia productions such as videos, animations, and slideshows. Make sure you give your business the online advantage it needs to succeed. Thousands of companies have turned to Worldly Voices for professionally produced voice-over recordings for e-commerce, and we can provide the same expert services for you. With more than 25 years in the business, we have the expertise needed to ensure that your project is completed on time, on budget, and to your complete satisfaction.
We're Here (and Hear!) for You
If you have a completed script you're happy with, you can upload it here for a free price quote. If you decide to move forward with us for your project, you'll be able to choose from our pool of talented voice professionals, all of whom have a proven track record of success. What's more, your voice recordings will be:
Produced at our studio in Nashville, so you can rest assured they'll be of the very highest quality, free of hiss, breath inhalations, and other distortions
Optimized for their intended platform (computer, mobile device, tablet, etc.) and delivered in the non-proprietary format of your choice
Completed in a timely manner and to your 100% satisfaction
We also offer certified translation services in all of the most-spoken languages, an invaluable asset if you're trying to reach consumers the world over. Worldly Voices can also record IVR prompts, on-hold messages, after-hours greetings, or just about any other voice work needed for your growing business.
Contact Worldly Voices today to learn more about our voice over recordings for e-commerce. Together, we'll make sure your online shoppers always hear you loud and clear.