Masterfully Produced Custom IVR Prompts for Auto Attendants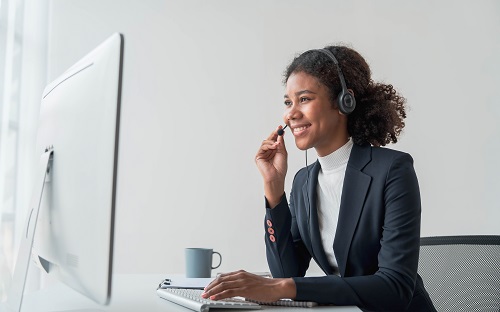 At the heart of every customer service center are the people staffing the phone lines. Ultimately, they are the ones responsible for ensuring callers receive the help they need as efficiently and pleasantly as possible. But while having a great staff is important to ensure caller satisfaction, giving those individuals the right tools is also essential for success. Interactive voice response (IVR) prompts are the framework of a well-oiled auto attendant. Without thoughtful, professionally crafted prompts, your call center may not be as effective as it could be. And even if your auto attendant does use flawless prompts, they likely need to be updated regularly to ensure all information is accurate and up to date.
At Worldly Voices, our specialty is producing first-rate IVR prompts for auto attendants. Since opening our doors a quarter century ago, we've become the go-to company for a full complement of telephone voice recording services. During our years in business, we've earned a large and loyal clientele across a broad range of industries, including health care, insurance, financing, and education, just to name a few.
A Partner as Committed to Your Success as You Are
What brings so many of our customers back again and again is our unrivaled level of personalized service paired with competitive pricing and our unyielding commitment to excellence. All of our IVR prompts for customer service centers are recorded at our professional studio, so you can rest assured they'll be of the highest audio quality, free of hiss, breath inhalations, or background noise. You'll also be able to choose the perfect voice from our pool of veteran talents, all of whom have a proven track record of success.
In addition to production excellence, we offer:
Pricing by the prompt rather than the hour, so you'll never have to pay for unused studio time
Complementary reviews of any scripts you'd like to have a fresh set of eyes on
Guidance on organizing your menu tree
Your audio files optimized for their intended platforms and delivered in the non-proprietary format of your choice
And for an additional fee, we can also provide certified translation services and record your prompts in any of the world's most-spoken languages. That's a must-have if you want to communicate effectively with as many of your callers as possible.
When you consider all we offer, the smart choice for IVR prompts for auto attendants is clear. Reach out to Worldly Voices today to get the ball rolling on your project. And if you already have a script you're happy with, you can upload it here for a free price quote!