Professionally Recorded Automated COVID-19 Phone Surveys for Your Business or Organization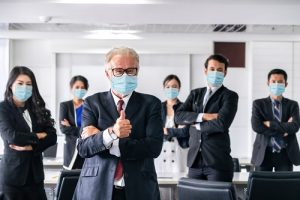 If there's one thing the global pandemic has taught us, it's that the future is unpredictable. No one could have foreseen the monumental changes that have occurred as we've adjusted to a new reality that is anything but "normal." But just because we're in uncharted territory, it doesn't mean we can't find our way back. The transition to a work-from-home, learn-from-home environment was swift. The transition back to a traditional experience is taking longer, but it is happening. To help ensure the process is safe, measures must be taken to prevent the further spread of the coronavirus, including the systematic screening of those returning to the office or classroom. One of the most efficient means of doing this is with automated COVID-19 phone surveys that allow participants to quickly and easily answer a series of questions to determine if their return is appropriate. At Worldly Voices, we can help you craft these surveys and then record them at our professional studio for integration into your call center.
Ensuring a Thoughtful, Thorough Screening Process
With more than two decades of experience in the voice recording industry, we have a proven track record of success that's hard to beat. We take a hands-on approach to the projects we produce, helping our clients through every step of the process. Our staff will be happy to offer feedback and suggestions as you polish your automated COVID-19 phone survey. A few of the questions you might want to ask include:
Have you been experiencing any of the following symptoms?
Have you traveled out of state in the last 14 days?
Have you been in close contact with anyone who has tested positive for COVID-19?
In the past two weeks, have you been to any public gathering of more than 10 people?
Have you been tested for COVID-19 in the last month?
Once you're happy with your survey, we'll complete your project quickly and deliver your audio files in the non-proprietary format of your choice. And we'll make the entire process as simple and stress-free as possible. When has that ever been said about anything related to the coronavirus?
Reach out to us today to learn more about having Worldly Voices record automated COVID-19 phone surveys for your business or organization.