Professionally Recorded Voice Prompts for Automated Phone Systems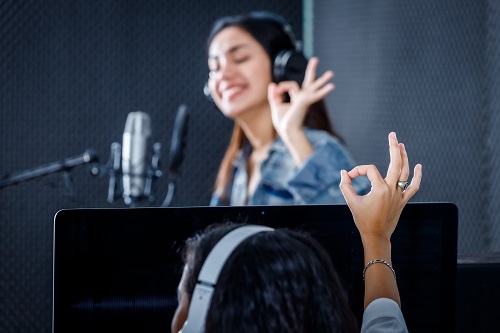 Your phone system is an indispensable part of your business, a vital link to your customers that should be a conduit to profitability and growth. But in today's increasingly fast-paced world, it's more challenging than ever to keep the lines of communication open for tech-savvy consumers who expect fast answers to all their questions 24 hours a day, seven days a week. Automated phone systems can ensure callers always have a means of finding the information they need quickly and efficiently.
But a great auto attendant isn't something you unpack from a box and plug into an outlet. It has to be carefully planned and flawlessly executed to ensure the best results possible. Failure to anticipate your customers' informational needs will result in misdirection, dead ends, and plenty of frustration. With more than two decades of experience recording voice prompts for automated phone systems, Worldly Voices is one of the most accomplished and seasoned companies in the industry. Whether you're setting up a call center for the first time, expanding an existing system, or upgrading to a new auto attendant, we can put our expertise to work for you.
IVR Prompts, Menu Tree Organization, and More
When you turn to Worldly Voices for automated phone system voice prompts, we'll work closely with you to ensure your project is as productive and stress free as possible. After all, your success is our success! We have extensive experience with all of the most popular phone systems, including:
Ring Central (Zoom)
ShoreTel
Mitel
Vocatas
And many others
Our team can help you organize your menu tree, provide feedback on the wording of your prompts, and even offer sample scripts to see how others have organized their system. When you're ready to record, you'll be able to choose from our pool of seasoned voice professionals, any of whom will articulate your prompts with warmth and clarity. What's more, our pricing structure charges by the prompt rather than the hour, so you'll never have to pay for unused studio time.
Additional Voice Recording Services
Of course, there's more to auto attendants than just IVR prompts. A full-service phone system must incorporate on-hold messages and after-hour greetings to ensure every call scenario is accounted for. Great messages can make the difference between customer frustration and customer fulfillment, even when they can't speak with a live representative. Worldly Voices has recorded thousands of on-hold and after-hour messages for clients in a wide range of industries, including healthcare, insurance, retail, education, and financial.
While the products and services offered by these businesses or organizations vary widely, the characteristics of successful messages are the same for each. They must provide pertinent information in a concise and preferably entertaining manner. Challenging? Yes. Impossible? No. As with our other recording services, our team can work with you as you polish and revise your script. Although we don't provide writing services, we are more than happy to offer feedback on your work-in-progress so you have a better idea of what's working and what's not in terms of getting your messages across clearly. This critiquing process makes it less likely you'll have to book additional studio time to record corrections or revisions, saving you time and money on your project. It's just another way we go above and beyond for our clients.
And for an additional fee, Worldly Voices also offers certified translation services. We'll record your audio files in any of the world's most-spoken languages. We only use native speakers, so you can rest assured your prompts and messages will be articulate, fluent, and free of syntax or diction errors.
When you consider how much we have to offer, we think you'll agree Worldly Voices is the smart choice when it comes to voice prompts for automated phone systems. Reach out to us today to learn more.