Phone Surveys for Covid-19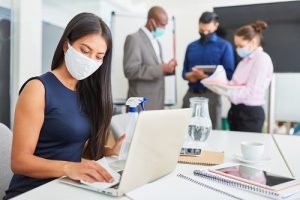 Change is an inevitable part of life. Sometimes it's slow and steady. Sometimes it's like a bolt from the blue. No one could have predicted the world would be in the grip of a pandemic a year ago. Now, those times before coronavirus seem like a different era. Lockdowns, social distancing, and mandatory mask wear are all part of the new normal. We've undergone a monumental adjustment in how we live, but it's not the end of the story. Things are still changing as we move into the next stage of our response to the virus. As companies, schools, and institutes of higher learning transition from working and learning at home back to a more traditional environment, the challenges of keeping everyone as safe as possible are significant. Screening is needed to prevent those who are sick from returning to the office or classroom and possibly infecting others. One quick and easy way to begin this process is for potential returnees to answer a few questions over the phone. At Worldly Voices, we can record phone surveys for Covid-19 that will give you the information you need to make an informed decision about the status of your employees or students.
Questions Tailored for Your Specific Situation
When you partner with Worldly Voices to record an automated Covid-19 phone survey, we'll work with you throughout the process to ensure your questions are clear, concise, and on-point. If you already have a script you're happy with, you can upload it here for a free price quote. If you'd like feedback on a script in progress or need a little guidance on shaping your survey, we'll be happy to offer suggestions. Some questions you might want to consider include whether or not responders:
Are experiencing a list of common Covid-19 symptoms
Have been to a gathering of 10 or more people in the last 14 days
Have been in contact with someone diagnosed with coronavirus
Have been tested for Covid-19
Covid-19 phone surveys are also invaluable tools for health care facilities such as doctors' offices and dental practices that need to screen patients before their visits.
Reach out to us today to learn more about having Worldly Voices record an automated Covid-19 phone survey for you. We're the partner you can count on during these uncertain times.