Professional Voice Recording Services for Smart Speakers and Virtual Assistants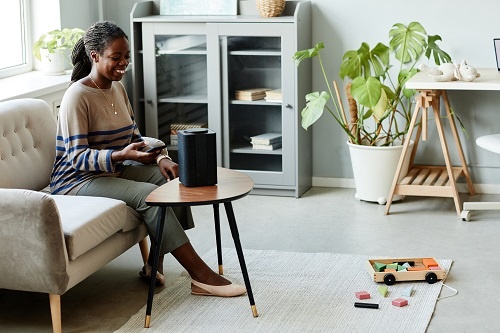 Not that long ago, talking to your appliances would have been considered a bit odd at best, and outright alarming if you expected them to answer back. Nowadays, asking your vacuum to clean under the dining room table or your oven to preheat to 425 degrees isn't all that uncommon thanks to the proliferation of smart speakers and other types of virtual assistants.
While a few brands currently dominate the market, the number of virtual assistants is rapidly growing and expected to explode in the coming years. Speech is the primary interface between these devices and their users, and having the right voice talking back can make a big difference in their level of satisfaction and engagement. This is why virtual assistants use a library of words spoken by a real person rather than synthesized speech.
And that's where Worldly Voices comes in. For more than a quarter century, we have been providing professionally recorded voice tracks for a wide variety of technologies, including auto attendants, multi-media productions, and interactive displays. We are the company to partner with to provide voice recording services for smart speakers and virtual assistants.
Our Level of Personalized Service Speaks for Itself
Our goal with every project is to make the experience as productive and stress-free as possible. To that end, Worldly Voices provides an exceptional level of personalized service. We'll work with you every step of the way to ensure your satisfaction. That includes:
Highly competitive pricing
A pool of seasoned voice professionals to choose from
All voice tracks produced at our professional studio
Timely completion of your project
Audio files optimized for their intended platforms and delivered in the non-proprietary format of your choice
We can also translate your files and record them in all of the world's most-spoken languages, including Spanish, Mandarin, Hindi, and Arabic. We only use native speakers, so you can rest assured your device will talk to users in a warm, friendly, and easily understood manner.
Voice is playing an ever-increasing role in AI/user interfaces. Make sure the one you choose will be an asset to your company. Reach out to Worldly Voices today to learn more about our recording services for smart speakers and virtual assistants.