Exceptional Voice Over Narration Is More Than Just a Line Reading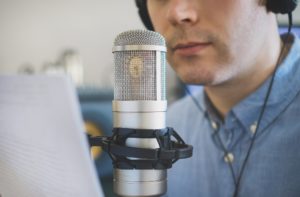 What makes one voice over narration more compelling than another? Is it the sense of confidence and authority it conveys? An impression of warmth and approachability? Maybe it's the way it draws listeners in and helps them focus as they progress through an IVR system or an e-learning seminar. At Worldly Voices, we know it's all of these things and more. We've been recording voice over narrations for two decades, and during that time we've gained a wealth of experience about every aspect of the process. We have an in-depth knowledge of best practices for a wide range of voice over applications, which allows us to work with clients to ensure their projects progress smoothly and stay within budget.
Personalized Services for Clients Large and Small
Throughout our long tenure, we've established a loyal clientele that turns to us again and again for all their voice recording needs, from corner drugstores to Fortune 500 corporations. Our list of industries served include:
Healthcare
In a highly technical field like medicine, a thorough understanding of complex terms and tongue-twisting terminology is imperative to ensure proper syntax and pronunciation. Our skilled voice professionals have recorded a wide variety of voice over narration for hospitals, doctor's offices, pharmaceutical companies, and clinics. Recent examples of our work can be heard on everything from surgical training videos and drug trial reports, to updated messages about annual flu shots.
Financial
When customers call a bank or credit union, it's not to chit-chat. They want to access the information they need quickly and efficiently. We've recorded over a million IVR (interactive voice response) prompts and can help you organize your tree menu so it provides the information your callers need in as few steps as possible. We can also provide narration for videos, commercials, and on-hold messages.
Education
Whether it's a small-town middle school, a private college, or a state university, communication is key throughout the entire education process, both inside and outside the classroom. In addition to providing messages and voice prompts for your phone system, Worldly Voices also has extensive experience providing narration for e-learning courses. With our voice talent articulating your script, we'll do our part to make sure the information and concepts you're conveying are presented in a way that enhances learning and retention.
Going Above and Beyond
Worldly Voices takes pride in being more than just a service provider. We are as invested in the success of each job as the organizations that turn to us for voice over narration services. That's why we:
Offer sample scripts for both IVR systems and on-hold messages for those who are setting up their platforms for the first time
Review submitted scripts and offer feedback when appropriate to minimize the possibility of having to book a second recording session for additional material or corrections
Record all of our voice overs at our studio in Nashville, thus ensuring top-quality audio that's free of hissing, tonal imbalances, ambient noise, breath inhalations or any other distractions
Complete projects promptly and send the files in any non-proprietary format our clients prefer
What's more, our talented pool of veteran voice actors are all seasoned professionals who have the experience necessary to deliver your words with expressiveness, clarity, and distinction. And if you need to record your messages in languages other than English, we offer certified translation services so you'll always be able to communicate with your target audiences.
Let's Get Started!
For voice over narration services that are the last word in quality, convenience, and affordability, turn to Worldly Voices. Our friendly and responsive staff will work with you during every step of your project to make it as stress-free as possible. Contact us today for a free price quote and to learn more about why Worldly Voices is the sound choice for all your voice over needs.