When it Comes to Voice Prompts for IVR Systems, Worldly Voices Is One of the Most Experienced Companies in the Industry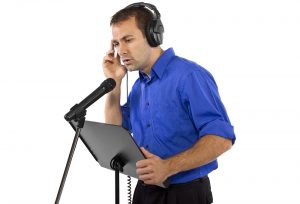 Worldly Voices has more than 20 years of experience recording voice prompts for IVR systems, making us the go-to company for all your automated telephony needs. We have worked with large Fortune 500 companies, small startups, family-owned businesses, boutique hotels, national retailers, and many more, producing high-quality voice prompts for many of the most popular IVR systems, including Altigen, Broadsoft (Broadworks), Cisco, Mitel, Pronexus, and Shoretel. Our expertise allows us to streamline the production process while still providing an exceptional level of service, so your project will progress smoothly from first contact through to the final delivery of your audio files.
Putting Our Clients' Needs First
At Worldly Voices, we take an active role in ensuring our clients are thoroughly satisfied with our work. Unlike other companies that simply record prompts verbatim and charge extra if changes are needed, we will be happy to review your script and offer suggestions on ways to make it as complete and polished as possible before the recording session. This kind of feedback can be particularly helpful for companies setting up their IRV system for the first time. We can even provide sample scripts showing how others have set up their phone tree and menu prompts. But these are just a few of the reasons why Worldly Voices is the company to turn to when you need voice prompts for your IVR system. We also:
Charge by the prompt rather than the hour, so you'll never have to pay for unused studio time
Employ a pool of talented voice professionals with years of experience in the industry and a proven track record of bringing clients' words to life clearly and articulately
Record all audio tracks at our studio in Nashville, so you can be confident they'll be of the highest quality, free of hiss, distortion, breath inhalations, and background noise
Optimize your files to the specific platform they will be accessed through and deliver them in the non-proprietary format of your choice
Make sure you entrust the voice prompts for your IVR system to a company that will meet or exceed all of your expectations. Contact Worldly Voices today to learn more about our services. We also offer free price quotes, so be sure to visit our "get a quote" page and upload your script.