Professional Voice Prompts for VoIP Systems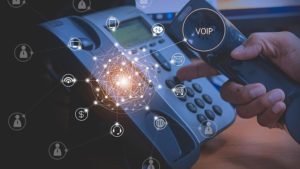 In today's business climate, it's more important than ever to take advantage of the latest technological advances in order to maximize efficiency, improve service, and reduce cost. One powerful tool more and more businesses are utilizing is voice over IP (VoIP). By routing phone service through an internet connection, companies can reap big savings on their telephone expenses without sacrificing quality. If you're in the process of setting up a new or expanded VoIP system for your business, Worldly Voices is the company to turn to for professionally recorded voice prompts and on-hold messages. Over the previous two decades, we've recorded more than one million prompts at our professional studio in Nashville and have served a wide range of clients in the hospitality, financial, healthcare, and retail industries, just to name a few. Whether you need a few additional recordings to complete your phone tree or require a full menu of voice prompts for your VoIP system, we can complete the job quickly, affordably, and to your total satisfaction.
We Hear You Loud and Clear
When you partner with Worldly Voices, you can expect an unrivaled level of personalized attention throughout your entire project. We work hard to make our clients happy, and that's something you'll realize from the moment you reach out to us. Our services include:
A free price quote – just upload your script here
A pool of seasoned female and male voice professionals to select from
An optional script review as well as sample scripts provided upon request
High-quality audio files delivered in the non-proprietary format of your choice
A per-prompt price structure, so you'll never have to pay for unused studio time
What's more, we can translate the voice prompts for your VoIP system into any of the world's most-spoken languages, so you'll be able to stay connected to your customers around the block and around the world.
Make sure your VoIP system is optimized to provide callers with the best experience possible. Contact Worldly Voices today and speak with one of our representatives to get the ball rolling on your project. We'll make sure the voice of your business is always music to your customers' ears.