Listen Up! For Professional Voiceovers That Are Worthy of Your Words, Turn to Worldly Voices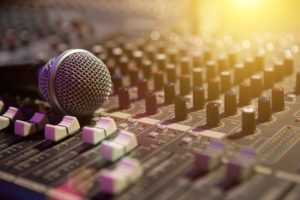 Pleasant, articulate voiceovers help to reassure listeners that they're in good hands, whether navigating through the prompts of an interactive voice response (IVR) system, listening to an on-hold message, or working their way through an e-learning course. For more than 20 years, Worldly Voices has been providing professional voiceovers for corporations, hotels, hospitals, universities, and major retailers. Drawing from a pool of experienced voice talent, we can bring your words to life in a compelling manner that will ensure your message connects and resonates with everyone who hears it.
Your 100% Satisfaction Is Our Top Priority
Our voiceovers are recorded at our state-of-the-art studio, so you can be confident your audio files will be of the highest quality, free of hiss, echoes, static, background noises, breath inhalations, or any other distractions. In addition to our professional productions, Worldly Voices strives to make your experience with us as streamlined and stress free as possible. That's why we:
Provide free, accurate price quotes so you can budget your project accordingly
Offer sample scripts if your company is setting up an IVR system for the first time, or review a completed script to make sure it contains all the prompts necessary to complete your phone tree
Will complete your voiceovers in a timely manner and can prioritize your project if you have a tight deadline
Charge by the voice prompt rather than the hour, so you'll never have to pay for unused studio time
Optimize your audio files for platforms such as cell phones, landlines, computers, and more
And, if you need to connect with listeners who speak a language other than English, we can provide certified translation services in all of the world's most-spoken languages.
Our Expertise Goes Beyond the Studio
In addition to our voice recording expertise, we've worked extensively in many industries and have a deep understanding of the unique challenges faced by businesses and organizations in their particular fields. Here are just a few of the clients we routinely partner with.
Pharmacies, Doctor Offices, and Healthcare Facilities
From automated surveys and health alerts to curtesy reminders about prescriptions ready for pickup, we can record messages that help you stay connected to your customers and patients 24 hours a day, seven days a week. Our voice talents can handle even the most technical medical lingo with assurance and precision.
Banks, Credit Unions, and Credit Card Companies
Navigating through the labyrinth of menu options can be challenging for callers who are unfamiliar with how the financial information they're looking for is organized. We can help you set up a menu tree that gets customers from point A to point B as efficiently as possible.
Insurance Companies
Whether it's a policyholder waiting to speak to an agent about life insurance, an accident victim calling in to report a claim, or a potential client comparison shopping, we'll work with you to craft messages that will portray your company as helpful, caring, and concerned.
Educational Institutes
E-learning courses are becoming more and more popular, and articulate voiceover narration is an important component of both fully autonomous and instructor-lead classes. You can rest assured our voiceovers will enhance the learning experience and help students achieve a higher retention rate than they would reading the lessons on their own.
Let's Get Started
So why wait? Our friendly and responsive staff would love to hear from you! Contact Worldly Voices today and discover why our voiceovers are second to none.