Professionally Recorded Educational Voice-Overs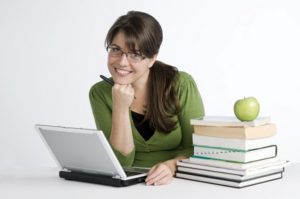 Traveling to a brick-and-mortar learning center—be it a community center, college, or university—to attend classes used to be the only option for the vast majority of students. Not anymore. Nowadays, educators are increasingly turning to online courses, or e-learning, to reach a broader segment of society, allowing those who have busy schedules or living in remote areas to learn in the comfort and convenience of their own homes. The tremendous growth of e-learning courses over the last decade is projected to accelerate in the coming years, with more and more students taking advantage of the opportunities that online classes provide. Of course, a productive learning environment requires both a motivated student and a well-designed e-learning course. A vital component of any multimedia presentation is clear, articulate narration. At Worldly Voices, we have decades of experience providing educational voice-overs for all manner of e-learning productions, from full lectures to pronunciation guides and everything in between.
Learn From the Best
Worldly Voices' long and proven track record of success is due in no small part to our going the extra mile for our clients. When you turn to us for educational voice-overs, we'll be a committed partner from day one. We'll work with you to ensure your project proceeds smoothly, is finished in a timely manner, and meets or exceeds all your expectations. To this end, we:
Have a large pool of seasoned voice professionals who will articulate your words with precision and clarity
Will record your educational voice-overs at our Nashville sound studio, so you can be confident that your audio files will be of the highest quality
Can provide feedback on your script-in-progress upon request
Will optimize your audio files for their intended platforms and deliver them in the non-proprietary format of your choice
What's more, we can also provide certified translation services for your educational voice-overs in Spanish, French, Mandarin, and dozens of other languages, increasing accessibility for international e-learning participants.
If you're ready to give your students the best possible learning experience, make the smart choice and reach out to Worldly Voices today. And if you already have a finished script, feel free to upload it here for a free price quote.