Give Your Callers Something Worth Listening to With Custom On Hold Messages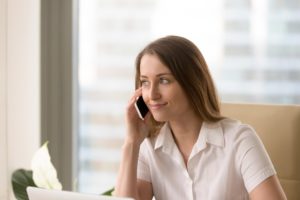 Customers don't call your company to chat about the weather or to trade recipes. They're looking for specific information and they want to acquire it as quickly and efficiently as possible. While pauses may be inevitable as they wait to speak to a representative, that time doesn't have to be filled by dead air, background music, or a local radio station that may be playing commercials for a competitor. At Worldly Voices, we can produce custom on hold messages that will not only keep your callers engaged, but also provide important data about your business such as its history, hours of operation, and latest specials.
Going Above and Beyond for Our Clients
Our goal at Worldly Voices is to provide affordable, top-quality solutions for companies and organizations who want to connect with callers in a pleasant, compelling, and above all informative manner. When you turn to us for custom on hold messages, our experienced staff will do everything in their power to make your project as stress-free as possible from start to finish. That's why we provide:
A free initial quote based on your submitted script
Quick turnaround time, usually in just a day or two
Optional script review and feedback
A pool of articulate, seasoned, voice talent
A library of licensed instrumental music ranging from country to classical
High-quality recording sessions made at our professional studio in Nashville
Audio files delivered in the non-proprietary format of your choice
And with more than 20 years of experience producing custom on hold messages for a wide range of clients, we have a sound understanding of what's required for callers to feel engaged rather than abandoned while on hold. We have extensive experience working with phone systems from all of the most popular manufacturers in the telephony industry including Shoretel, Mitel, Broadsoft, Altigen, and more.
Contact us today to learn more about the advantages of partnering with Worldly Voices for your corporate communication needs. Together, we can give your customers something compelling to listen to as they wait on hold.