The Professionals at Worldly Voices Are the Experts When it Comes to On-Hold Messages for Business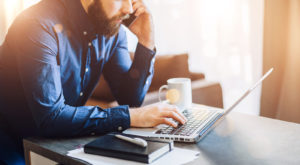 Being placed on hold may not be at the top of most customer's "favorite things" list, but that doesn't mean it can't be informative and engaging. At Worldly Voices, we have recorded thousands of on-hold messages for businesses, educational institutions, and healthcare providers since opening our doors in 1994, making us one of the most experienced and reputable companies in the industry. We know the value of a compelling on-hold message and can provide the services you need to keep your callers on the line and occupied while they wait to speak with a representative.
We're Not Just a Provider, We're a Full Partner
When you partner with Worldly Voices, we'll do everything we can to make your project as streamlined and affordable as possible. From our free initial price quote to the delivery of your audio files in the non-proprietary format of your choice, our friendly and responsive staff will work with you every step of the way to make sure you are 100 percent satisfied with your on-hold message. To that end, we:
Record all of our audio files at our studio in Nashville, where we use professional-grade technology to ensure the highest quality for your production
Offer an extensive library of royalty-free instrumental music in all of the most popular genres, including classical, jazz, country, rock, and more
Have a pool of seasoned voice talent to choose from, any of whom will bring your words to life in a clear, articulate, and compelling manner
Shall complete your project promptly, usually in just a few days
What's more, if this is your first on-hold message, we'll be happy to review your script and offer suggestions so you can achieve all of your communication goals, be it providing information about your products or services, updating the latest corporate news, or announcing your company's newest sales incentives.
Get Your Message Out to the Widest Possible Audience
For businesses with a multi-lingual client base, recording on-hold messages takes on a whole new level of complexity. Not only do most if not all of the messages need to be recorded multiple times, but there's also the added challenge of finessing the verbiage to flow well and sound articulate in the language of choice. Thankfully, Worldly Voices can provide certified translation services for all of the world's most-spoken tongues, including Spanish, Mandarin, Hindi, French, German, and many more. We only use native speakers to ensure proper pronunciation and syntax. What's more, we can translate your script and send it back to you for review so you can make any changes you'd like before the recording session. And if a wording issue arises during production, we'll do our best to fix it in-studio to save you the expense of having to book additional recording time.
On-Hold Messages Are Just the Beginning
Of course, on-hold messages are only one component of an automated call center, and with our extensive expertise providing voice recording services for businesses large and small, we can help you set up and implement your interactive voice response (IVR) system. Having recorded over a million prompts for our clients, we know what it takes to guild callers to the information they need quickly and efficiently. Our team can provide examples of how companies like yours have set up their call centers. We can also help you organize your menu tree. And unlike other recording studios, we charge by the prompt, not the hour. That means you'll never have to pay for unused studio time!
So Why Wait?
If you need a reliable, experienced company that can record on-hold messages for your business, look no further than Worldly Voices. Contact us today for your price quote and to learn more about our top-notch voice recording services.