For Professional Voiceover Services That Are More Than Just Lip Service, Trust the Professionals at Worldly Voices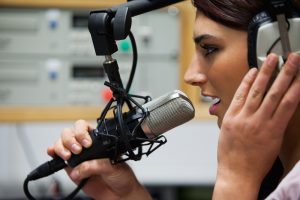 Finding the right company to partner with for professional voiceover services doesn't have to be a tedious process of trial and error. The professionals at Worldly Voices have more than two decades of experience in the industry and a well-deserved reputation for providing a high level of personalized attention to every project. We work closely with our clients to ensure their productions progress smoothly every step of the way. To get started, simply upload your script on our "get a quote" page for a no-obligation initial price estimate. If you'd like feedback on your transcript, we can do that as well, providing an added layer of quality control. You'll then be able to choose from our seasoned pool of female and male voice professionals to bring your words to life in a compelling, articulate way. And all of your audio files will be recorded at our studio in Nashville, ensuring the highest possible sound quality.
A Partner You Can Rely On
Worldly Voices specializes in a number of professional voiceover services for businesses, educational institutions, and government organizations, including:
Voice prompt recordings for IVR systems
Your call center is a critical nexus between you and your customers. As such, having a well-structured menu tree, thoughtful prompts, and an articulate voice to help callers navigate to the information they're seeking in as few steps as possible is imperative for an optimal user experience. Our team can help guide you through the process to ensure the lines of communication are always wide open and easy to navigate.
E-learning courses
In today's internet-dominated world, learning opportunities are no longer limited to brick-and-mortar institutions that offer classes on a fixed and inflexible schedule. E-learning courses are experiencing exponential growth in popularity. Studies have shown clear, articulate narration can improve comprehension rates, lengthen retention time, and help facilitate a more satisfying and productive study session. Let us bring your words to receptive ears.
Multimedia presentations
Don't make the mistake of over-relying on graphics and text to grab and hold your audience's attention. Bright displays and long captions can often lead to fatigue and boredom if they're not reinforced by a vocal component. Worldly Voices can record compelling voiceovers that provide the connective tissue needed to bind all the elements of your multimedia presentation into a cohesive whole. From training videos to tradeshow displays, our voice tracks will take your production to the next level.
On-hold and after-hours messages
It would be nice if callers could reach a live representative every time they phoned your business. Unfortunately, delays and missed connections are an inevitable part of doing business. But just because a customer is placed on hold or calls after hours, it doesn't mean you can't make a lasting impression. We can help you craft messages that are compelling, informative, and memorable. After all, making a lasting impression is easier with a captive audience than someone just passing by. We'll make sure your message is heard loud and clear.
But Wait, There's More!
Worldly Voices can also provide certified translation services in conjunction with any of our professional voiceover services, so you'll be able to communicate effectively with listeners from around the world. When your project is completed, we'll optimize your files for every platform they will be accessed through, such as mobile apps, computers, and landline connections. And we'll deliver them in the non-proprietary format of your choice.
So, why wait? Worldly Voices is the one-stop source for all your professional voiceover needs. Our services are designed to make things as stress free and convenient as possible. Contact us today to learn more about how we can give voice to your vision.