Professional Voice Productions That Never Disappoint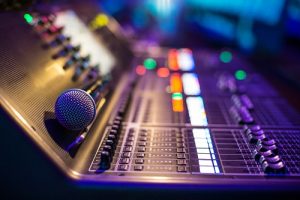 As one of the most tenured voice recording studios in the nation, Worldly Voices is the company to turn to for a wide range of voice productions. From IVR prompts to voiceovers for e-learning courses, we promise to make your project as stress-free and productive as possible. We consistently go the extra mile to ensure the relationships we have with our clients are true partnerships. Our team will work with you from day one to provide an exceptional level of personalized and responsive service. We understand how challenging a voice production can be, especially if you've never written narrative text or are setting up an IVR system for the first time. Menu trees? Send-to-call queues? Multi-lingual options? It can be a little overwhelming. But with more than two decades of experience and an in-depth knowledge of the industry, Worldly Voices can help guide you through every step of your project.
Your 100% Satisfaction Is Our Top Priority
Our definition of a successful voice production is one that progresses smoothly, stays within your established budget, and accomplishes all of your communication goals. We're willing to bet that's pretty close to your definition as well! To accomplish this, we:
Will review your script-in-progress upon request and, if necessary, offer constructive feedback on ways to tighten and polish it
Forward examples of IVR prompts and on-hold messages for guidance and inspiration
Provide advice on organizing your menu tree to optimize efficiency and minimize confusion
Record your audio files at our professional studio in Nashville, so you can be confident they'll be of the highest quality
Optimize your files for their intended platform (online, cellular, landline, etc.) and deliver them in the non-proprietary format of your choice
You'll also be able to choose the perfect voice to represent your company from our pool of seasoned professionals. Just click here to hear samples from three of our most popular artists. What's more, we can provide certified translation services for your voice production so you can reach the widest possible audience without language barriers getting in the way.
To learn more about what makes Worldly Voices the smart choice for your voice productions, reach out to us today. We'll be happy to answer all your questions.