Professional Voice Over Recording Services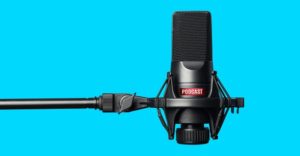 We're all familiar with the phrase "choose your words wisely." It's the bedrock of effective, compelling, and elegant communication between two parties, whether it's a teacher to her students, a parent to his child, or a company to its customers. But while the message is of paramount importance, the messenger also plays a significant role in establishing a meaningful connection between originator and audience. If you've chosen your words wisely and are now in need of a voice to convey them, deciding who speaks for your company, institution, or organization is the next step. At Worldly Voices, we've been providing professional voice over recording services to satisfied clients for more than two decades. We've completed thousands of projects over the years and have established ourselves as a leader in the industry by consistently meeting— and exceeding—expectations.
Our Customer Service Speaks Volumes About Our Commitment to Excellence
When you turn to Worldly Voices for voice recordings services, we'll work with you from day one to ensure our partnership is pleasant, productive, and problem free. It starts with a free quote. Just upload your script here and we'll get back to you with an estimate. If you decide to move forward with your project, you'll then be able to choose from our pool of talented and experienced recording professionals for the voice that best suits your needs. All of our professional voice over recordings are produced at our studio, so you can rest assured your files will be of the highest quality. We also offer:
Some of the most competitive pricing rates in the industry
Prompt turnarounds on your project
Certified translation services for all of the world's most-spoken languages
Delivery of your audio files in the non-proprietary format or formats of your choice
You've worked hard to get your words just right. Now it's our turn to shine. Whether you need professional voice over recordings for e-learning courses, multimedia presentations, training videos, or marketing campaigns, we have you covered.
We Can Provide Recordings for All Your Telephony Needs
Of course, as one of the most vetted voice recording studios in the nation, our expertise goes beyond the production of high-quality audio files. With a proven track record of success stretching back more than two decades and tens of thousands of completed projects under our belts, we've helped clients across a wide range of industries plan, implement, and maintain their interactive voice response (IVR) systems. Our team has an in-depth understanding of the intricacies and unique characteristics of all of the most popular automated call center services in the nation, including those manufactured by Altigen, Cisco, Mitel, Pronexus, and Vocantas, just to name a few. No matter what type of call center you're using, we can help you optimize your system so it accomplishes all of your communication goals. This includes:
Organizing Your Menu Tree
Guiding callers to their information in as few steps as possible requires careful planning and the ability to anticipate their needs. We can assist as you sort through the options and connect the dots.
Providing Sample Scripts
Don't know where to begin when it comes to crafting your prompts and messages? You're not the first to struggle with this task. Our team will be happy to provide examples of how businesses like yours have handled their call center setups.
Critiquing Your Script-in-Progress
Have a script you'd like feedback on? We can review what you've written and offer suggestions on ways to tighten, clarify, and otherwise refine your work-in-progress to optimize its effectiveness.
What's more, unlike most companies that provide IVR recordings, we charge by the prompt rather than the hour. That means you'll never have to pay for unused studio time. It's just another way we're going the extra mile for our customers.
So why wait? If you're looking for a company to provide professional voiceover recording services, Worldly Voices is the smart choice. Reach out to us today to learn more.