Polished and Professional Voicemail Greetings for Business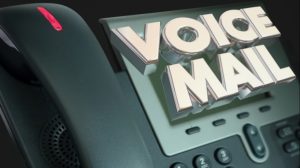 First impressions matter. A good one can go a long way in getting a relationship off on the right step, be it personal or professional. A bad one, on the other hand, can end things before they even have a chance to start. For businesses, this critical initial contact often comes in the form of a voicemail greeting. Make sure your welcome message represents your company in the best possible way. At Worldly Voices, we've been recording professional voicemail greetings for businesses since 1994, making us one of the most experienced and vetted voice studios in the nation. Our friendly and knowledgeable staff takes a tremendous amount of pride working with clients to ensure their total satisfaction. We're not a faceless assembly line, cranking out audio files with cookie-cutter indifference. We're a full partner that will work with you every step of the way to ensure the professional voicemail greetings we produce for your business not only meet your expectations, but also exceed them.
Say Hello in the Best Way Possible
If you already have a script ready for recording, you can upload it here for a free price quote. If you decide to move forward with your project, you'll then be able to choose from our pool of seasoned voice professionals who will articulate your words with clarity, warmth, and eloquence. Want some guidance crafting your greetings? We can offer feedback or provide sample scripts so you can see some of the ways other businesses have handled their welcome messages. Once you're happy with your script, your audio files will be:
Recorded at your Nashville studio to ensure they're of the highest quality
Optimized for their intended platform (landline, online, mobile, etc.)
Delivered in the non-propriety format of your choice
What's more, we can translate your voicemail greetings into Spanish, German, Hindi, or any of the world's most-spoken languages, so you'll be able to connect with a global audience. We can also provide record recordings for all your telephony needs, including prompts for interactive voice response (IVR) systems and on-hold messages.
Professional voicemail greetings are a must for businesses that want to make a great first impression with callers. Contact Worldly Voices today to get your project started.