Say Hello in the Best Way Possible With Professional Voicemail Greetings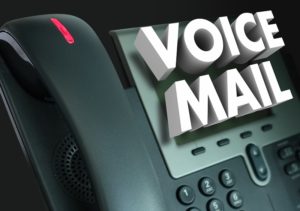 In an ideal world (at least from your callers' point of view) a live representative would answer your phones 24 hours a day, seven days a week. Unfortunately, for most companies, that's simply not practical. But just because your messages are prerecorded, it doesn't mean you can't make a meaningful connection with your customers. At Worldly Voices, we are the company to turn to for professional voicemail greetings that are clear, articulate, and concise. With more than two decades of experience working in a wide array of industries such as healthcare, retail, hotel, and insurance, we know what it takes to engage callers in a way that is productive and satisfying. What's more, we can help you craft professional voicemail greetings that will ensure your company makes a good impression every time someone reaches your auto attendant.
Your Project Is Our Top Priority
When you turn to Worldly Voices for professional voicemail greetings, you'll be able to choose from our pool of seasoned professionals, any of whom will voice your messages with a high degree of warmth and authenticity. If you're happy with your script, you can upload it here for a free estimate. If you'd like a little guidance in crafting your messages, we can offer sample scripts and review your work in progress. In addition to providing your company's location, hours of operation, and an opportunity to leave a message, professional voicemail greetings can be used to convey a slew of other pertinent information, including:
Highlights about your newest products and services
Announcements about recent industry awards and other recognitions
Upcoming special events such as holiday sales and grand openings
Your company's website address
Names, phone numbers, and email addresses of key personnel
Quick facts about your business that your callers might find interesting
Once your audio files have been recorded, we'll optimize them for their intended platform (mobile, online, etc.) and deliver them to you in the non-proprietary format of your choice. We know in business, time is money. That's why we'll make every effort to complete your project promptly and to your 100% satisfaction.
Voicemail Greetings Are Just the Beginning
Worldly Voices can provide the same level of professionalism and personalized service to other telephony projects as well. After all, a robust call center provides more than just a pleasant hello. We also:
Record IVR Prompts
Worldly Voices has recorded more than a million prompts over the last two decades. That's a record of success few other companies can match. We have extensive experience with all of the most-used interactive voice response (IVR) systems, including ShoreTel, Altigen, and Cisco. What's more, we charge by the prompt rather than the hour, so you'll never have to pay for unused studio time.
Help Optimize You System
Ensuring your call center is as efficient and effective as possible requires careful planning. Our team can offer suggestions on ways to organize your tree menu, review examples of how other businesses like yours implemented their systems, and give feedback to fine-tune your prompts and messages so they provide a positive experience with callers.
Offer Certified Translation Services
In today's increasingly multinational marketplace, connecting with customers across the globe means getting your message out to a diverse audience. We can translate your IVR prompts and messages into all of the world's most-spoken languages, from Arabic to Thai. We only use native speakers, so you can be confident your words will always be articulated with the correct syntax and pronunciation.
A Partner You Can Count On
From the moment you reach out to us, we'll work hard to ensure your total satisfaction with our work. Our reputation for going above and beyond is one of the reasons why Worldly Voices is the company more and more businesses and organizations are turning to for professional voicemail greetings, IVR prompts, and more. Contact us today to get started on your project.