Professionally Recorded French Canadian Voiceovers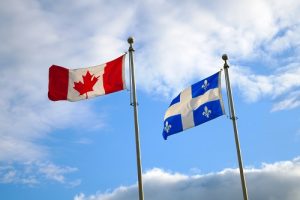 Canada is the United States' second-largest trading partner, and nearly 21% of its population speaks French Canadian. Although Quebec is the only province where the majority of people speak the language, a significant portion of Canadians are fluent in French, from the Labrador coast to the Pacific Northwest. Any company that wants to do business with our neighbor to the north needs to be able to communicate effectively with this segment of its citizenry. At Worldly Voices, we can record French Canadian voiceovers for IVR prompts, on-hold and after-hour messages, multimedia productions, or direct-to-voicemail marketing. With more than two decades of experience in the industry, we have a long-established reputation for excellence and a proven track record of success that keeps our clients coming back again and again.
French Like No Other
As anyone who's fluent in the language can tell you, Canadian French has many unique qualities that make it distinct from European French. It's more old-fashioned, using phrasings and pronunciations that would sound quaint to a Parisian. It also uses more Anglicisms than its counterpart. And there are differences in grammar, verb forms, word order, and more. Rest assured, however, that when you turn to Worldly Voices for French Canadian voiceovers, your recording will be of the very highest quality. That's because we:
Offer certified translation services of your script or review services if you already have a translation from another source
Only use native speakers to ensure perfect diction, syntax, and pronunciation
Record your audio files at our professional studio in Nashville and deliver them in the non-proprietary format of your choice
Will work with you every step of the way during your project to make sure your experience with us as smooth and productive as possible
If you would like to learn more about our French Canadian voiceover services, reach out to Worldly Voices today. You can listen to a sample of our work here, as well as examples of some of the other languages we provide translations for. When you partner with Worldly Voices, we're sure you'll agree our services are tiguidou!