Professionally Recorded Mandarin Voiceovers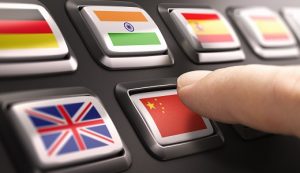 The Chinese economy is the second-largest in the world, and the most-spoken language among its increasingly affluent citizens is Mandarin. With an estimated 1.3 billion native speakers, this represents a huge potential customer base. Effectively communicating with a Mandarin-speaking audience is an absolute necessity for any company that wants to make inroads into this burgeoning market. Unfortunately, the odds of having someone on staff who's fluent in Mandarin isn't all that high for most business owners. If this is the situation you're in, does it mean you have to abandon your ambitions and cede what could have been your market share to the competition? Absolutely not! At Worldly Voices, we offer certified translation services that will allow you to communicate effectively and articulately to customers around the globe, including China.
Communicate With Confidence
For more than two decades, Worldly Voices has been the company to turn to for all your professional voice recording needs. We pride ourselves in offering an unrivaled level of personalized service for all of our customers as part of our commitment to ensure that every one of our partnerships is as productive, affordable, and stress-free as possible. We only use native speakers for our Mandarin voiceovers, so you can be confident your words will be articulated with precision and clarity. We can translate and record:
IVR prompts for automated call centers
On-hold and after-hour messages
Narrations for multimedia productions such as videos and interactive online displays
Direct to voicemail marketing messages
We can even provide feedback on your script so you can finetune your message to maximize its effectiveness. And you'll have the opportunity to review our translations and make changes before the recording session. What's more, we'll optimize your audio files for their intended platforms—online, mobile, landline, etc.—and deliver them in the non-propriety format of your choice.
Don't let a language barrier come between you and your customers. Contact Worldly Voices today to learn more about our certified Mandarin voiceover services. You can also click here to listen to examples of our most popular translation options, including Spanish, Hindi, French, German, and many more.