Keep the Lines of Communication Open Between You and Your Customers With Spanish Voiceover Services From Worldly Voices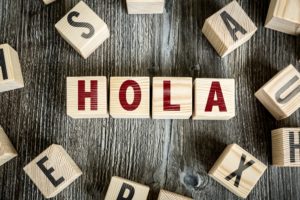 Spanish is the world's second most spoken language, behind only Mandarin. It's also the second most spoken language within the United States. In today's increasingly multi-lingual society, being able to communicate effectively with Spanish speakers is of growing importance in many segments of society, including the healthcare, retail, financial, and education industries.
Say Hola to Excellence
If you are looking for a company that can provide Spanish voiceover services, rely on the professionals at Worldly Voices. Whether you have a Spanish-language script ready for recording or need to have your English-language script translated, we can provide the services you need to complete your project quickly and to your 100 percent satisfaction. We only use native speakers for our Spanish voiceover recordings to ensure proper pronunciation, syntax, cadence, and fluency. You'll be able to choose from a talented pool of female and male voice professionals who have years of experience in the industry. What's more, all of your audio files will be recorded at our state-of-the-art studio in Nashville, so you can be confident they will be of the highest quality, free of hiss, distortion, static, echoes, or any other imperfection.
Our Services
Worldly Voices specializes in a wide range of voice recording services for businesses and educational organizations, any of which can be optimized for Spanish-speaking listeners. We have extensive expertise in:
Interactive Voice Response (IVR) Systems
Our in-depth knowledge of IVR systems starts with a broad understanding of the unique characteristics of all of the most popular IVR systems, including those manufactured by Cisco, Altigen, Mitel, and Pronexus, just to name a few. This high level of product mastery ensures your audio files will be optimized for the system you're using. We can also provide guidance on the best way to organize your menu tree, offer feedback on your script-in-progress, and even give you sample scripts so you can see how other business set up their automated call centers. In addition, unlike other companies, we charge by the IVR prompt rather than the hour, so you'll never have to pay for unused studio time.
On-Hold & After-Hours Messages
Automated messages are more than just a call center necessity, they're an opportunity to provide callers with important information about a wide variety of topics, from your company's history to your newly launched marketing campaign. We can help you craft the perfect presentation for your callers. Worldly Voices also has an extensive library of royalty-free music that you can integrate into your production. Whether they're waiting for a live representative, calling after hours, or listening to an automated product description, we'll make sure your customers always have a positive experience.
Ready to take your multimedia presentation to the next level? Incorporating a compelling voiceover will add a dynamic element to your project that helps to unify the information in a way that reinforces and clarifies the information you're conveying to your audience. Be it a training video, a safety review, an annual report, or a product launch, our talented voice professionals will bring your words to life with precision, warmth, and eloquence.
What's more, in addition to Spanish voiceover services, we can provide certified translations and recordings for many other languages as well, such as French, Hindi, Arabic, German, and yes, Mandarin. So why wait? The world may be a big place, but it's getting smaller by the day. Keep the lines of communication open between your business or organization and the people you serve. Contact Worldly Voices today and speak with one of our friendly representatives to learn more about any of our voice recording services.