Turn to Worldly Voices for Expert Voiceover Translation Services That Eliminate Language Barriers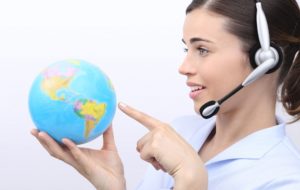 The world doesn't speak a single language, and chances are neither do your customers. In today's global marketplace, it's more important than ever to be able to communicate effectively with consumers wherever they may live. Don't let language be a barrier between you and your bottom line. Give your company the advantage with certified voiceover translation services from Worldly Voices. Whether your target audience speaks Spanish, Hindi, Arabic, French, or any of the world's most-spoken languages, we can provide translation services in conjunction with our voice recording services for multimedia productions, e-learning courses, prompts for interactive voice response (IVR) systems, or on-hold messages.
Benefits That Need No Translation
Our goal is always your 100 percent satisfaction, which is why we strive to make your experience with us as productive, affordable, and stress free as possible. The advantages of partnering with Worldly Voices for your voiceover translation services include:
The use of native speakers to ensure proper syntax, inflection, pronunciation, and grammatical construction for recordings
Audio files recorded at our studio in Nashville, which allows us to precisely control every aspect of production to achieve an unsurpassed level of quality
The opportunity to review our translation before any studio session
Files delivered in the non-proprietary format of your choice and optimized for specific platforms such as laptops, cell phones, tablets, and landlines
What's more, unlike other voice recording studios, we charge by the prompt, not the hour, so you'll never have to pay for unused studio time. It's just one more example of how we go the extra mile for our customers.
The right voiceover translation services can make the difference between expanding your marketing reach and missing the mark. If you're ready to take a truly global view of your company's future, contact Worldly Voices today to learn more about all of our voice recording services.