The Company to Turn to for Professional Voicemail Greetings is Worldly Voices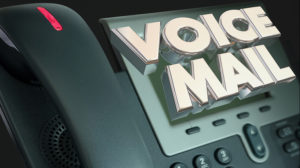 In a perfect world, everyone who calls your company would be able to speak with a live representative 24/7. In reality, of course, that's simply not possible. Still, each call is important and no business wants to give the impression they're not responsive or attentive to their customers' needs, even if no one is currently available to speak with them. That's why professional voicemail greetings are a must. Whether a live representative or a recorded message, the voice your customers hear on the other end of the line will create a powerful impression about how your company conducts business. A sterile, electronic voice reciting barebones instructions to leave a name and number suggests customer service is not a high priority. A recorded message by you or a member of your staff is better, but if the audio quality is poor or the delivery garbled in some way, it can lead to frustration as callers struggle to interpret the words or phrases they didn't quite catch.
The Clear Choice for Voice Recording Services
At Worldly Voices, we have been recording professional voicemail greetings for companies large and small for more than two decades. As one of the most experienced voice-recording studios in the industry, our staff can work with you to ensure your greetings are informative, concise, and engaging. We'll be happy to review your messages and offer feedback. Once you're happy with your script, you'll be able to choose from our pool of seasoned voice professionals, any of whom will deliver your words with clarity and precision. What's more, your professional voicemail greetings will be recorded at our Nashville studio and delivered in the non-propriety audio format of your choice. But why stop there? We can also record:
On-hold messages
Prompts for interactive voice response (IVR) systems
Narration for multimedia projects such as PowerPoint presentations and training videos
When you partner with Worldly Voices to record professional voicemail greetings, you can be confident the voice your customers hear will speak volumes about your business. Our reputation for excellence, on the other hand, speaks for itself. Contact one of our representatives today to learn more.