Voiceover services, known for giving life to animations, commercials, and games, have broader applications than one might initially think. Among the lesser-known beneficiaries of professional voice recordings—and more specifically, IVR prompts—are staffing agencies. Here's how: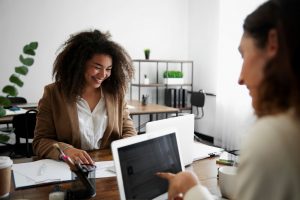 Building a Strong Brand Image

In today's digital age, a staffing agency's online presence is essential. Voiceovers used in corporate videos, introductions, and presentations not only lend credibility but also provide a sense of cohesion and professionalism. A well-chosen voice can make your agency's brand memorable.
On-Hold Messages and Voicemail Greetings
One often overlooked yet crucial aspect of communication is the time clients or candidates spend on hold or interacting with a voicemail portal. These moments offer a golden opportunity for staffing agencies to engage and inform through effective IVR prompts. Professional IVR prompts can play host to compelling on-hold messages that reinforce brand identity, promote valuable services, and add a warm personal touch. Incorporating these professional aspects can transform a traditionally mundane experience into a valuable touchpoint, further establishing the staffing agency's commitment to excellence in all interactions.
Engaging Job Listings
Stand out in a crowded job market! Incorporating voiceovers in job listings or promotional videos can make them more engaging and appealing. A voice can convey excitement about a role, drawing potential candidates in and creating a more emotional connection.
Multilingual Recruitment
In an increasingly globalized world, reaching out to diverse talent pools is crucial. Multilingual IVR phone menus can help staffing agencies break language barriers, ensuring that job listings and materials are accessible to a broader audience.
For staffing agencies, it's essential to stand out and make a lasting impression. Professional voiceover services can be a game-changer in weaving enhanced brand standards throughout the entire experience of a potential client or new hire, as well as expanding reach in multilingual markets. By leveraging these services, staffing agencies can effectively communicate their value proposition to both clients and candidates.
If you'd like to learn more about how Worldly Voices' hub of talented voice actors and IVR services can benefit your business, please contact us!