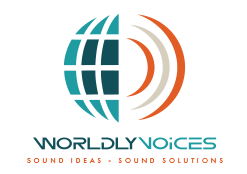 Worldly Voices is a multi-language voice over studio with over 20 years of experience. Some of the many services they offer include quick turnaround of voice over prompts with the ability to translate scripts into over 35 different languages.
With as many years as Worldly Voices has been in business, they have affected the IVR and voice over industry with just how dedicated they are to providing excellent work as well as providing top voice talent to lend any company's aesthetic and targeted demographic.
Worldly Voices has another major effect on the industry by having an unique catalog of services:
-Custom Voice Prompt Recording
-Translation and Recording in 35+ Languages
-Message on Hold
-Multimedia Productions
-Audio Format Conversions
These services guarantee any business's satisfaction with both quality and quantity.
Another aspect of Worldly Voices's professionality is the scope of companies they are able to take on as clients; medical, pharmaceutical, E-Learning, financial, and various businesses of all sizes. Worldly Voices is qualified to cater to business needs across the globe, making them the best professional recording studio to guarantee client satisfaction.