It can be difficult for large businesses or corporations to make sure people get the help they need exactly when they need it. Customer service centers are a great solution to this problem, and professional voiceover is key to making these centers run smoothly. Be it customer service at a state or federal government level or a privately owned corporation, like Home Depot or WalMart, professional VOIP for customer service centers are absolutely necessary to keep the wheels of care in motion.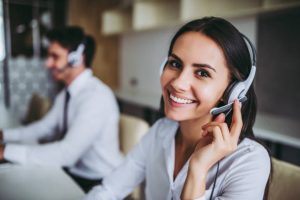 In-bound calls are a huge part of this process. Phone calls from customers often happen because people need help navigating difficult online systems. For instance, when the 2020 COVID-19 pandemic hit, and people found themselves unemployed for the first time in their lives, many governmental unemployment call centers were flooded with people trying to navigate the difficult process and make sure the information they gave their state websites was necessary and correct. Professional VOIP recordings usher customers to where they need to be and connect them with the exactly who they need to talk to–it's a service we love providing and our talented team of voiceover artists lend their talents to bring this process to life.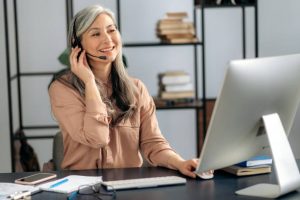 Large corporate businesses greatly benefit from professional VOIP for customer service centers. Companies like Apple or Google couldn't operate without the voiceover professionals like the artists we partner with and produce lending their voices to the customer service efforts. Not only does professional voiceover offer customer service in itself to help navigate clients to where they need to be (i.e. technical support, repair options, downloads or accessibility), but they provide a grounding of professionalism so customers on the other end of the line know they're dealing with the best company possible–which will keep them coming back to spend their hard-earned money for years to come.
The enormous impact of these businesses wouldn't be possible without the help of voice recording and production, and we are proud to work with businesses big and small to keep their customers informed and satisfied. If you'd like to learn more about  professional VOIP for call centers, please contact us! We'd love to talk with you about how partnering with Worldly Voices is the right call for your business.