Every year we like to have a little fun around the holidays. We like to pay tribute to the iconic voice actors of past and present who give their all each scene to deliver the memorable performances we all know and love. Where would we be without voice actors around this time of year?! We shudder at the thought! Professional voiceover is a true art form and so, this Thanksgiving, we'd like to show our gratitude by giving a shout out to a few of the famous voices we're truly thankful for this year:
The Bob's Burgers Cast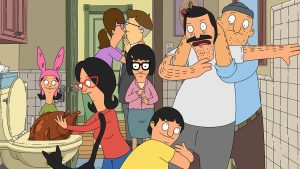 The incredible voice actors of Bob's Burgers have delivered tremendous performances for fans season after season. Their Thanksgiving episodes each year just happen to be some of our favorites–and are usually the ones that stick out best in our mind. The indomitable John H. Benjamin gives a perfect performance as patriarch Bob Belcher captures our hearts and empathy while Kristen Schaal, John Roberts, Eugene Mirman, and Dan Mintz tickle our funny bone as the rest of the Belcher crew. We would be remiss if we didn't dedicate a huge amount of thanks to this legendary crew. We're grateful we've spent 13 seasons with them and hope for a few more laughs in the years to come.
A Charlie Brown Thanksgiving cast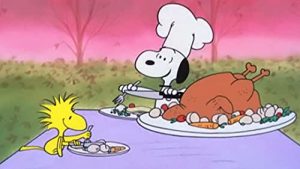 Now, the Charlie Brown voice actors have shown up in our favorites of Christmas list in years past, but we would feel incredibly ungrateful if we didn't include them in our Thanksgiving list this year. In 1973, cast members Todd Barbee (Charlie Brown), Steven Shea (Linus van Pelt) united with Robin Kohn (Lucy van Pelt) and Hillary Momberger (Sally Brown) to give us the heartwarming classic, A Charlie Brown Thanksgiving,  that just shoots our gratitude to the moon and gives us all the warm fuzzies. No holiday list is complete without the famous voices who make up this team. We can't wait to watch this vintage special after our second helping of turkey!
The Simpsons cast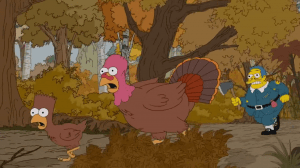 Last, but certainly not least on this list, we are so excited and GRATEFUL to include the tremendous famous voices who make up the cast of The Simpsons. Year after year Dan Castellaneta (Homer), Julie Kavner (Marge), Nancy Cartwright (Bart), and Yeardley Smith (Lisa) give us the joys and pains of this hysterics and dysfunctions in this all-American family unit. We especially love the "Thanksgiving of Horror" episode from 2019! Hank Azaria gives an incredible performance as Police Chief Wiggum gone pilgrim. We're looking forward to a rewatch from our couch sometime this week.
If you'd like to learn more about the voices we love, and why we love them, please contact us! We'd love to talk to you about what makes voiceover so important and the many reasons we love what we do.