We've seen it on television. We've seen it in the movies and films a hundred times. The flashbacks, the monologues, the moment in the script where the main actor breaks it all down for the audience. I bet you've even heard the same voice over from the same movie more times than you can count…. But do you know why you remember it so well? Why it is so emotionally resonant? The human voice is one of the most effective storytelling devices of all time, and professional voice services for voice over narration is exactly the key that makes all the difference in opening this important door.
By using professional voice over services (be it for film, business, or call center), you immediately engage with the audience in more ways than you would if this device were not used. It's a rhetorical power play. Whatever is being presented feels more active, more urgent even, and makes the audience want to lean in and listen closer. This is particularly helpful for new businesses wanting to widen their net.
Professional voice services are the perfect way to reach your audience with exactly the right emotional appeal. Using powerful and well-written scripts helps tremendously, of course, but when those powerful scripts encounter a professionally developed recording studio… the results are astounding.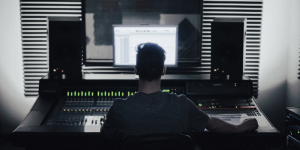 If you are looking to add voice over narration to your current project, phone system or business, please feel free to contact us! This easy, affordable, and reliable tool will ultimately make a huge difference in the story and message you are trying to get across for your audience. And we always look forward to showing you the ways that Worldly Voices can help!