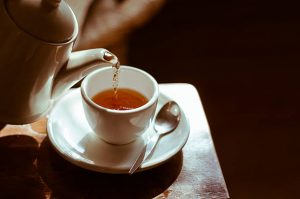 If you're a Starbucks regular, you likely are familiar with the go-to order for those who are feeling a bit under-the-weather. The Medicine Ball tea is a customer favorite for soothing a sore throat, or providing some internal calm and relief during a nasty winter cold. Being in the Voice Actor business, we like to get ahead of the curve when it comes to seasonal sickness, and even better so when we can have the ingredients on hand at home to put into action at the first sign of an oncoming cold. Plus, who doesn't like to curl up on the couch with a hot cup of tea after a long recording session, just because? 
After a long day of churning out professional voice recordings, lean on our favorite homemade recipe for Medicine Ball tea. You'll just need 5 simple ingredients: water, lemonade, honey, Jade Citrus Mint Green Tea, and Peach Tranquility Herbal Tea. (Teavana is a favorite brand of ours, if you want to follow the "official" recipe!)
The Recipe:
8 ounces lemonade
8 ounces water
1 tablespoon honey
1 Jade Citrus Mint Tea sachet
1 Peach Tranquility Tea sachet
Simply warm up the lemonade in a microwave-safe mug (about a minute should do the trick), then add hot water from a teapot (just under boiling temperature), a bit of honey, and stir to dissolve. Add your two tea sachets and steep for about 2-4 minutes. 
While you're waiting for your tea to steep, read up on more information on protecting your voice as the seasons change. Whether your weekly docket is jam packed with translation services or acting as a virtual receptionist, you'll want to be sure to care for your chords in your downtime to be up for whatever job comes your way!
If you'd like to learn more about voiceover opportunities and how Worldly Voices is a hub for many talented voice actors, please contact us! We'd love to speak with you about why partnering with us is a great move for your vocal career.