Every family has their own Thanksgiving traditions. Some fry a turkey and hang around the garage all day. Some throw on a football game and watch as the big teams go head to head. Here at Worldly Voices, we like to turn on the tv, snack on delicious food, and watch as some of the biggest voiceover artists in America are represented as larger than life floats in the streets of New York City. That's right, we absolutely love and adore the Macy's Thanksgiving Day parade. 
This year we wanted to celebrate those talented individuals whose voice recording performances and contributions earned their characters a float in the parade. And we thought you might want to celebrate too! So, here's a list of our top picks for who we're excited to see float by during this year's Thanksgiving festivities.
SpongeBob SquarePants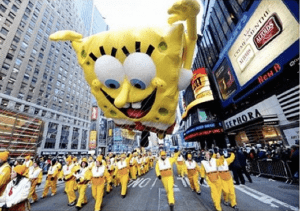 This lovable character might live in a pineapple under the sea, but SpongeBob is making his way to the Macy's Day Thanksgiving Parade this year for a special guest appearance. This adorable character came to life with the brilliant voice recording of Tom Kenny (whose work has also been featured in Rocko's Modern Life, Powerpuff Girls, and Johnny Bravo). Kenny has won two daytime Emmys for his voiceover performance as SpongeBob, and we can't wait to see his beloved character roll down Manhattan's crowded streets on the big day. Congrats, Tom! 
           2. Pillsbury Doughboy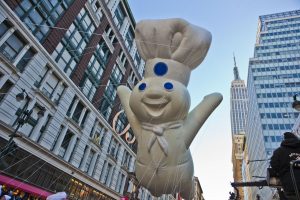 Now, let's face it: it wouldn't be Thanksgiving day without a delicious roll (or two) on our plate. And that is exactly why the Pillsbury Doughboy and his infamous giggle is next on our list of incredible voiceover characters not to be missed in this year's big parade! We're thrilled to see that the Pillsbury Doughboy float will make another appearance, and find ourselves reminiscing about the many actors and their amazing voice recording performances we've heard from this character throughout the years. From the first time we heard his giggle performed by voice actor, Paul Frees, to the hysterical and current voice talents of JoBe Cerny. Grab your favorite Pillsbury roll (we prefer crescent) and gather around to watch this timeless star make his way down the avenue.
           3. Pikachu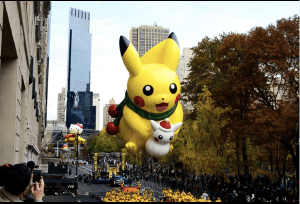 Last but not least, this year's parade would not be complete without one of the global voice recording community's most beloved characters: Pikachu! Ikue Ōtani has been the voice of Pikachu for more than 20 years and we were so thrilled to learn that her talents would help Pikachu be featured in this year's parade. Ōtani helped turn Pikachu into the adorable global sensation we all know and love, and her voice recording style is unmatched. If you plan to watch on Thanksgiving day, make sure you catch a peek at this adorable Pokémon!
If you'd like to learn more about Worldly Voices and the many ways we fit into the global voice recording community, please contact us! We'd love to show you our expertise and how it can help fit into your life or business.