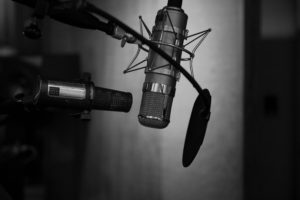 There are many freelance voice over actors who also produce their own recordings, and while they may be the cheapest option, the quality is far below par that of a professional recording studio.
Studios that specialize in voice over recording and production are uniquely capable of handling any business's IVR needs because they have experienced voice actors on staff whose profession is mastering prompt recordings.
Professional recording studios, like Worldly Voices, provide quality sounding voice over as well as supply the right environment; booths, condenser microphones, as well as an engineer for quality control, all of which is needed to record a proper voice over.
Once the client provides a studio with a script for the voice talent to perform, the voice engineer is then able to take the talent's recordings and turn them into voice prompts.
If a business does not already have a script in place, studios will occasionally provide example scripts that the client is then responsible for mimicking and re-sending in a completed format.
Studios are also better equipped to provide translated work. While some freelancers may rely on Google or other sites on the internet to translate certain scripts, professional recording studios often have employees on hand able to translate prompts into the needed languages.
This is important because sites like Google Translate aren't able to provide exact translations. They miss sentence structure and word order. Also, these free online sites do not have proven accuracy ratings. They are many times wrong and can result in the generated response not being correct. Not to say they can't be used but the accuracy rate might not be at 100%.
Professional voice over studios are also more than familiar with the business. They have the experience to back up their credibility and they are experts in their fields, possessing a full portfolio of past work that will guarantee a satisfied client.