Voice Recording Services for Hospitals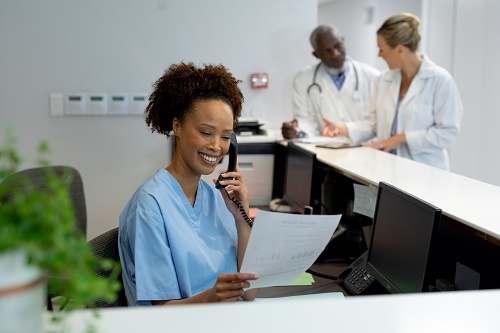 When people think of hospitals, the first image that pops into their heads may be of emergency rooms or a ward filled with patients recovering from an injury, illness, or surgery. But today's hospitals are far more than places to treat acute maladies. They are health centers that often offer diagnostic testing, public outreach programs such as CPR training and infant care, specialized long-term therapies, and many other services. Keeping all of these departments running smoothly is a monumental task that makes administrating even a small rural hospital a challenge. Communication is key, both internally and with the communities hospitals serve. A website can provide a wealth of information, but there are times when something more than prewritten content is required to answer specific questions or accomplish specific goals. That's when most people pick up the phone. And since hospitals are 24/7/365 operations, a call center augmented with a robust and well-planned auto attendant is an absolute must.
At Worldly Voices, we offer a full range of voice recording services for hospitals to help them facilitate the smooth exchange of information, whether it's between departments or to the public at large. We specialize in recording:
With a quarter-century of experience in the industry, we've recorded well over a million interactive voice response (IVR) prompts for all of the most popular systems, including Cisco, Altigen, Pronexus, and Ring Central (Zoom). If you've already scripted out your prompts, you can upload them here for a free price quote. If your prompts are a work in progress, we can offer feedback and suggestions on how to craft them. We can also help you organize your menu tree to ensure your callers reach the information they're seeking as efficiently as possible.
During peak hours, even the largest call centers can reach capacity, making delays unavoidable. But just because callers have to be placed on hold while they wait to speak to a representative, it doesn't mean they have to listen to bland background music or a looped apology for the delay. Thoughtful and well-written on-hold messages educate callers about many topics relevant to their health with fun facts, helpful tips, and news alerts. As with all of our recording services, you'll be able to choose the perfect voice for your messages from our pool of talented professionals. And if you need a little inspiration, we can provide sample scripts to get the creative juices flowing!
Voiceovers for Multimedia Productions
Our expertise goes beyond telephony services. We can record voiceovers and narration for a wide range of multimedia productions, including training videos, PowerPoint presentations, touch-screen check-in kiosks, and much more. Worldly Voices also works with healthcare institutions to provide voice tracks for a number of cognitive assessments, including testing programs for speech therapy, early childhood evaluations, dementia, and concussions.
Translation Services
If your hospital serves a multi-lingual community, you must be able to communicate effectively across several languages in order to provide the highest level of care. Worldly Voices offers certified translations services for all of the world's most-spoken languages, including Spanish, French Canadian, Hindi, Mandarin, and many more. We only use native speakers to ensure proper diction, syntax, and pronunciation. You also have the option of using your own translation or submitting it for review so our team can confirm its accuracy. That way, you won't have to book additional studio time to correct mistakes.
No matter what services we provide, you can rest assured your experience with us will be pleasant and productive. We'll work with you every step of the way to ensure you're completely satisfied with your audio files, which will be completed on time and within budget. We'll also deliver them in the non-proprietary format of your choice and optimize them for their intended platform.
To learn more about our voice recording services for hospitals, reach out to Worldly Voices today. We're ready to help you serve your community at the highest level possible.