Voice Recording Services for Hotels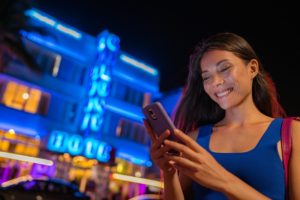 Unlike motels, a hotel isn't the sort of place people pull up to after a long day on the road and check in for the night. Travelers plan their stay well in advance and do an extensive amount of research before deciding which accommodations are right for them. This process usually starts online, and if you're a hotelier, you've undoubtedly worked hard to make sure your website represents your hotel in the best way possible, with enticing photos of beautiful rooms, a list of exceptional amenities, and that pool!
But have you thought about what happens next? A great initial impression is just the first step. At some point, most customers reach for the phone to complete the booking process, and unless you have enough operators to answer every call, that means listening to a prerecorded message one or more times. The voice your guests hear on the other end of the line should make as good an impression as your website. At Worldly Voices, we have decades of experience providing a wide range of voice recording services for hotels of every size. Whether you're a charming boutique or a multinational chain, we can work with you to ensure your customers are always engaged and informed throughout every stage of their call.
Personalized, Professional, and Precise
Our voice recording services are second to none. Produced at our Nashville studio, your audio files will be of the highest quality – crisp, clear, and voiced by one of our experienced professionals. Our fields of expertise include:
Certified translation services
Multimedia presentation
What's more, the staff at Worldly Voices is committed to providing an exceptional level of personalized attention throughout your project. If you already have a script you're happy with, you can upload it here to receive a free estimate. If you're setting up an IVR system for the first time, we can provide feedback or sample scripts to help you organize your phone tree. And unlike other voice recording companies, we charge by the prompt rather than the hour, so you'll never have to pay for unused studio time.
So why wait? Contact Worldly Voices today and speak with one of our friendly representatives to learn more about our voice recording services for hotels.