E-Learning Narration From Worldly Voices Can Help Students Learn a Valuable Lesson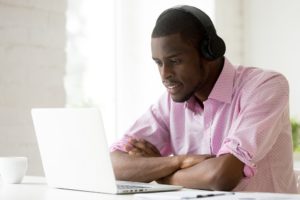 The popularity of e-learning has skyrocketed in recent years and is now one of the fastest-growing educational venues in the world. According to one study, the global e-learning market is expected to reach $275 billion in the next four years. Thanks to its affordability, convenience, and adaptability, more and more institutions are turning to e-learning as a way to increase access to educational opportunities that might otherwise have been out of reach for many. One major component of online learning is multi-media segments, be it videos, animated graphics, or slideshows. At Worldly Voices, we can provide e-learning narration for all of these and more. A compelling, articulate voice can:
Help students stay focus and engaged as they work their way through the session
Reinforce certain concepts, increasing information retention
Add a personal touch to reduce the sense of isolation
Reduce the amount of on-screen reading for non-critical concepts
Experience Matters
When you turn to Worldly Voices for e-learning narration, you'll be partnering with one of the most reputable voiceover companies in the nation. With more than 20 years of experience in the industry, we've recorded thousands of projects for businesses, municipalities, hotels, and educational institutions at our studio in Nashville. Our seasoned and articulate voice professionals will provide a clear and dynamic audio component to your script. And all of your voice files will be of the highest quality, free of hiss, background noise, distortion, or anything else that could distract from the learning experience. We can even provide certified translation services if you'd like to make your online course available to students who do not speak English.
Other Services We Offer
In addition to e-learning narration, Worldly Voices also specializes in providing voice recordings within a variety of other contexts including:
On-hold messages
Leaving waiting callers in limbo as they listen to instrumental music or worse, a void of silence, can make them feel abandoned, marginalized, and eventually forgotten. Thoughtful on-hold messages can keep callers on the line and engaged during their wait. We can help you polish your script, offering feedback on content, phrasing, and word choice. We can also offer suggestions on topics that your customers might find helpful, interesting, or just plain entertaining. Examples might include information about a new product line, limited-time special offers, industry recognition and awards, and your company's website address. We can also record after-hours messages that will keep callers informed even when your office is closed.
Prompts for interactive voice recording (IVR) systems
For your business to be successful, you must make it as easy as possible for customers to connect with you and your staff. A robust call center is an important tool in doing that. We have extensive experience with all of the most-used automated systems, including those made by Altigen, Mitel, Pronexus, and many others. If you're setting up your IVR system for the first time, our staff will be happy to provide guidance on organizing your menu tree. And since we charge by the prompt rather than the hour, you'll never have to pay for unused studio time.
Multi-media productions
Want to take your company's training video, PowerPoint presentations, or YouTube videos to the next level? Incorporating a dynamic, engaging voiceover is a great way to tie all the elements together and give your production the professional sheen it needs to make a lasting impression with viewers. Worldly Voices can also provide voice recordings for displays such as in-store touchscreen kiosks, interactive signage, and tradeshow information booths.
To learn more about any of our voiceover and voice prompt services, contact a member of our staff today, who will be happy to answer all of your questions.