Custom Voice Recordings for Your Business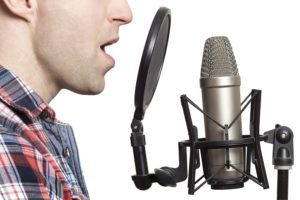 You've undoubtedly worked hard to grow your business and make it a success. From the moment you opened your doors (literally or figuratively), you've given it your all and never settled for "good enough." At Worldly Voices, we can empathize. After all, for more than two decades we've done exactly the same. Today, we're one of the most experienced and respected voice recording studios in the nation, with a long list of satisfied customers and a track record of success that's hard to top. If you're looking for a company to provide custom voice recordings for your business, we're ready to roll up our sleeves and put our expertise to work for you.
You'll Love What You Hear
As part of our "never settle" philosophy, we strive to make every project as pleasant, productive, and stress free as possible. When you reach out to us, our team will work with you from the get-go to ensure your complete satisfaction. For instance, if you're in need of voice prompts for your interactive voice response (IVR) system, we can provide sample scripts and guidance on organizing your menu tree. If you'd like to record on-hold messages, we have a library of royalty-free music you can use. And we'll be happy to review your finished text to ensure that it accomplishes all your objectives. That way, you won't have to book additional studio time to fill in gaps or correct mistakes.
We've worked with clients of every size and type across a broad range of industries, including:
Governmental
Insurance
Retail
Financial
Education
We'll record all of your audio files at our professional studio in Nashville and deliver them in the non-proprietary format of your choice. We can even provide certified translation services in all of the world's most-spoken languages, so you'll be able to connect with customers around the globe or across town.
To learn more about partnering with Worldly Voices to provide custom voice recordings for your business, contact us today. And if you already have a script you're happy with, you can upload it here for a free price quote.