Medical Voiceovers From Worldly Voices Are a Prescription for Success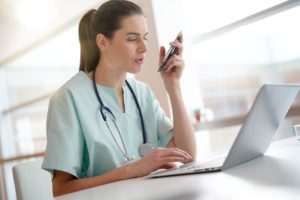 Medical voiceovers are used throughout the healthcare industry and serve a variety of purposes. Sometimes the information being conveyed to listeners is simple and straightforward, such as the hours of operation in a doctor's office or the prompts in a pharmacy's interactive voice response system (IVR). Many other times, however, medical voiceovers deliver highly complex and in-depth information about advanced concepts and procedures described in extremely technical terms. Correct pronunciation, enunciation, and inflection are all vital for listeners – whether they're medical students or chief surgeons – to fully understand and appreciate the narrative. At Worldly Voices, we have been producing medical voiceovers for more than two decades and have a pool of seasoned professionals with the experience to articulate your script in a clear, professional, and precise manner.
Experience You Can Count On
When you partner with Worldly Voices, you can rest assured your audio files will be of the highest quality. We produce all of our medical voiceovers at our Nashville studio using professional-grade equipment in an environment optimized for voice recording. You'll be able to choose from a pool of exceptional female and male talent to find the perfect voice to represent your company. Some of the services we offer include:
Voice prompts for automated phone systems
On-hold and greeting messages
Narration for eLearning courses
Voiceovers for medical trials, surveys, and information about medications
Audio recordings for multimedia presentations such as training videos
Certified translation services in all of the world's most-spoken languages
At Worldly Voices, we pride ourselves in going the extra mile for our clients. From first contact through to the final delivery of your audio files, our friendly and knowledgeable staff will work with you every step of the way to ensure your experience with us is stress-free, streamlined, and productive. What's more, we charge by the prompt rather than by the hour, so you'll never have to pay for unused studio time. You can upload your script here for a free price quote.
For affordable, top-notch medical voiceovers, trust the experts at Worldly Voices. Contact one of our representatives today to learn more about our services.