Medical Voiceovers From Worldly Voices Are a Prescription for Success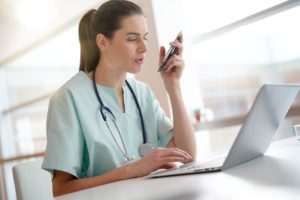 Medical voiceovers are used throughout the healthcare industry and serve a variety of purposes. Sometimes the information being conveyed to listeners is simple and straightforward, such as the hours of operation in a doctor's office or the prompts in a pharmacy's interactive voice response system (IVR). Many other times, however, medical voiceovers deliver highly complex and in-depth information about advanced concepts and procedures described in extremely technical terms. Correct pronunciation, enunciation, and inflection are all vital for listeners – whether they're medical students or chief surgeons – to fully understand and appreciate the narrative. At Worldly Voices, we have been producing medical voiceovers for more than two decades and have a pool of seasoned professionals with the experience to articulate your script in a clear, professional, and precise manner.
Experience You Can Count On
When you partner with Worldly Voices, you can rest assured your audio files will be of the highest quality. We produce all of our medical voiceovers at our Nashville studio using professional-grade equipment in an environment optimized for voice recording. You'll be able to choose from a pool of exceptional female and male talent to find the perfect voice to represent your company. Some of the services we offer include:
Voice prompts for automated phone systems
On-hold and greeting messages
Narration for eLearning courses
Voiceovers for medical trials, surveys, and information about medications
Audio recordings for multimedia presentations such as training videos
Certified translation services in all of the world's most-spoken languages
Serving a Wide Variety of Healthcare Providers
The healthcare industry is exceptionally broad, with many types of facilities catering to the specific needs of their customers and patients. Individualized attention is an absolute necessity in order to provide the best care possible. And that's the same approach we take at Worldly Voices. We tailor our services to your business so you can achieve all your communication goals. Some of the healthcare providers we partner with include:
Today's hospitals provide many services, from diagnostic testing to physical therapy. With potentially dozens of departments, a comprehensive and well-organized call center is a must. We can help you set up a menu tree and record prompts and messages that will get your callers to their desired destination quickly and efficiently.
It's not always possible for a live receptionist to answer every incoming call, especially in a large practice. Our seasoned pros will ensure the voice your patients hear when they dial your number is pleasant, professional, and helpful even if it is prerecorded.
The most powerful tool for optimized patient care is the human voice. Whether for phone systems, multimedia productions, seminar presentations, or in-office therapies, Worldly Voices is the partner to turn to for all your voice recording needs.
Most pharmacies now use automated call centers that allow customers to request refills 24/7. We can record messages that usher callers through each step of the process or direct them to specific information if they require additional assistance.
From updated greeting messages with adjusted holiday hours to automated appointment reminders, Worldly Voices offers the services you need to keep your patients up to date and on track for their next visit. We can also record messages about new safety protocols, locations, accepted insurances, and other time-sensitive information.
Humans aren't the only ones who need regular medical care. We can provide the same personalized services for those keeping our pets happy and healthy. Whether for a single office, a network of urgent-care facilities, or an adoption shelter, our recordings will enhance any call center.
Ready to Get Started?
At Worldly Voices, we pride ourselves in going the extra mile for our clients. From first contact through to the final delivery of your audio files, our friendly and knowledgeable staff will work with you every step of the way to ensure your experience with us is stress-free, streamlined, and productive. What's more, we charge by the prompt rather than by the hour, so you'll never have to pay for unused studio time. You can upload your script here for a free price quote.
For affordable, top-notch medical voiceovers, trust the experts at Worldly Voices. Contact one of our representatives today to learn more about our services.