Voice Recording Services for Automotive Dealerships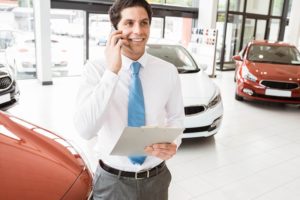 Automotive dealerships have always had to be nimble and adaptive in order to survive. While some vehicle types such as pickups and SUVs have been consistently hot-sellers in recent years, others have fluctuated in popularity. Moving these models off the lot in a timely manner requires a concerted marketing campaign to keep public awareness at a high level. Local print, radio, and television advertising are all powerful tools to achieve your sales objectives, but if your phone system isn't part of your ongoing marketing efforts, you're not taking full advantage of all your advertising opportunities. At Worldly Voices, we provide affordable voice recording services for automotive dealerships. We can help you keep your interactive voice response (IVR) system updated to highlight your current inventory, announce upcoming events, and promote services such as preventative maintenance, repairs, and rentals. We can also record on-hold and after-hours messages as well as voicemail greetings.
With Our Services, You'll Always Be in the Driver's Seat
When you turn to Worldly Voices for voice recording services, you'll be partnering with one of the most experienced companies in the industry. We have an in-depth knowledge of all the most popular IVR systems in use today, including Altigen, Cisco (Broadworks), ShoreTel, and many others. Our staff will work closely with you throughout your project to ensure it's productive, stress-free, and completed in a timely manner. To that end we will:
Provide a free initial quote – just upload your script here
Review your script if you wish and provide feedback as an additional layer of quality assurance
Record your audio files at our professional studio in Nashville
Deliver your recordings in the non-proprietary format of your choice
What's more, at Worldly Voices we charge by the prompt, not the hour, so you'll never have to pay for unused studio time. And, if you need your messages recorded in Spanish, French, or another language, we can provide certified translation services.
To learn more about our voice recording services for automotive dealerships, contact Worldly Voices today and speak with one of our friendly representatives. Together, we'll help ensure your sales are always in high gear.