Voice Recording Services for Educational Institutions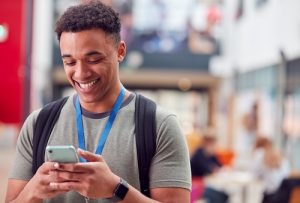 The difference between learning something and being educated is one of degrees. It's not hard to acquire a new piece of information, whether it's a simple fact such as a state capital or a profound realization, like always looking both ways before crossing the street. Learning happens all the time, both formally and casually. Education, on the other hand, is organized, systemic, and extensive. It's a long and involved process requiring a plethora of tools so educators can best serve their students. And although they may not be as front-and-center as a whiteboard or lectern, voice recordings are an important part of this complex equation. At Worldly Voices, we offer a variety of voice recording services for educational institutions. Whether for a school, community college, university, training center, or vocational institute, our services will help ensure students always have the information they need to be successful in their pursuits.
Our Lesson Plan
When you turn to Worldly Voices for voice recording services, you'll be partnering with a company that has decades of experience in the industry and a proven track record of success. We've earned our clients' loyalty—many of whom return again and again for new projects—by always delivering a quality product that completely lives up to (or exceeds!) their expectations. Our voice recording services for education institutions include:
We have extensive experience with all of the most popular interactive voice response (IVR) systems, including Vocantas, Altigen, Mitel, and many more. Upon request, we can provide guidance organizing your menu tree and offer feedback on the prompts you've written. What's more, unlike other companies, we charge by the prompt rather than the hour, so you'll never have to pay for unused studio time.
Your educational institution isn't open 24/7, but that doesn't mean callers are out of luck if they need basic information about holiday schedules, vaccination requirements, and other commonly asked questions. Our staff will be happy to help you craft informative messages that will keep your students in the loop. We can even provide sample scripts if you're looking for a little inspiration.
Voiceovers for Multimedia Productions
Our talented pool of seasoned professionals can provide voiceovers for a wide variety of multimedia productions including PowerPoints, promotional videos, training seminars, and annual reports. You'll love the way your words sound when articulated by our voice talent. At Worldly Voices, we take pride in our prompt turnarounds, so you won't be waiting around for weeks to complete your project. That's an important consideration if you're under a tight deadline.
E-learning Narration
One of the fastest-growing trends in education is e-learning. For students learning from home, prerecorded lessons are often an important part of their curriculum. Studies have shown that courses with narration can improve comprehension and increase retention.  Our voice professionals are skilled at articulating even the most complex or technical concepts with impeccable clarity and precision.
Certified Translation Services
In today's increasingly multicultural world, communicating effectively across several languages is a must. Worldly Voices offers certified translation services for all of the most-spoken ones, including Spanish, French, German, Hindi, and Mandarin. We only use native speakers to ensure perfect diction, syntax, and pronunciation. We'll be happy to either translate your script or review an existing translation for accuracy before stepping into the recording studio.
All of our voice recordings are produced at our professional studio, so you can rest assured they'll be clear, crisp, and free of any distortions or distractions. And we'll optimize your audio files for their intended platform before sending them to you in the non-proprietary format of your choice.
To learn more about our voice recording services for educational institutions, reach out to Worldly Voices today. One of our friendly representatives will be happy to answer all your questions. And if you already have a script you're happy with, you can upload it here for a free price quote.