Voice Recording Services for E-Commerce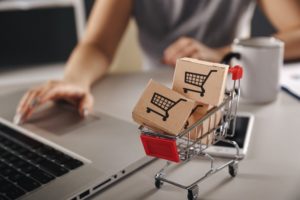 There's no denying that e-commerce has become a dominant force in the world economy. Every year the percentage of commercial transactions conducted over the internet increases, and there's no reason to think that trend will slow anytime soon. The convenience of ordering goods and services with just a few clicks of a keyboard or taps on a screen has allowed online retailers to sell their products to consumers far and wide. But to ensure that customers have the best possible experience, it's vital that businesses augment their online purchasing process with a robust and responsive call center. Many consumers will have specific questions that are not addressed on your website, and reaching out via a phone call is the most likely next step in their purchasing process. At Worldly Voices, we provide a wide range of professional voice recording services for e-commerce. Whether you need prompts for your interactive voice response (IVR) system, voice-over recordings for multimedia productions, informative on-hold messages, or friendly and welcoming voicemail greetings, you can rest assured we'll deliver a high-quality product that will represent your company in the best way possible.
Utterly Committed to Your Needs
At Worldly Voices, our voice recording services for e-commerce are tailored to the needs of our clients. From the moment you reach out to us, we'll work closely with you to make sure your project is completed on time, within budget, and to your total satisfaction. To that end, we:
Have a pool of talented and experienced voice artists to choose from
Produce all of our voice recordings at our studio in Nashville
Offer script reviews, as well as sample scripts upon request
Optimize your audio files for their intended platform and deliver them in the non-proprietary format of your choice
Charge by the prompt rather than the hour, so you'll never end up paying for unused studio time
And, if you need voiceover narration for product descriptions or company videos, we can record those as well. We even offer certified translation services in all of the most-spoken languages, so you'll be able to connect with consumers from one end of the globe to the other.
To learn more about our voice recording services for e-commerce, contact Worldly Voices today and speak with one of our friendly representatives. We're ready to bring your words to life.