The IVR Voice Recording Experts at Worldly Voices Are Ready to Help You Connect With All of Your Customers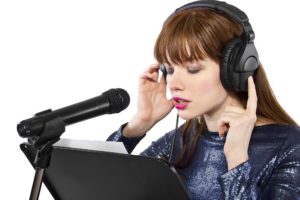 An IVR (interactive voice response) system is all about getting callers efficiently from point A to point B. Hearing an articulate, professional voice is an important part of keeping customers engaged as they navigate through what may be several layers of prompts on their way to the agent or information they are seeking. At Worldly Voices, we offer IVR voice recording services that are second to none. From first contact to the delivery of your completed audio files, we'll work with you to ensure your complete satisfaction with our productions. We have more than 20 years of experience in the industry and have worked with a wide variety of IVR systems.
Unbeatable Services, Optimal Results
Whether you're updating your system or creating a new one from scratch, the Worldly Voices staff can offer advice and guidance on organizing your IVR system so you can achieve all your communication goals. We have extensive expertise with all of the most-popular automated phone systems, including those manufactured by Altigen, Cisco (Broadworks), Mitel, Pronexus, and many others. We'll be happy to review your script or provide a sample script if you're setting up a menu tree for the first time. Once you're happy with all of the prompts and messages, you'll be able to choose the perfect voice for your IVR recording. You'll love the way your words sound when articulated by one of our seasoned professionals, all of whom have years of experience in the industry and a proven track record of success. Click here to listen to a few examples of our talent reading sample scripts.
Our productions also feature:
Professional-grade audio tracts recorded at our studio in Nashville
Files optimized for any platform you need, including mobile devices, websites, landlines, and more
Speedy turnarounds, so you'll be able to have your IVR system implemented without undue delays
Optional certified translation services if you need to communicate with customers in languages other than English
What's more, our IVR voice recording productions are among the most affordable in the industry. We charge by the prompt rather than the hour, so you'll never have to pay for unused studio time. And, we'll work with you to achieve all of your recording objectives while staying within your budget.
Some of the Industries We Serve
In addition to our in-depth knowledge of automated call centers, we also have decades of experience providing voice recording services for numerous industries, which allows us to be true partners with our clients, better anticipating their needs and offering solutions that are anything but cookie-cutter. Worldly Voices is the go-to studio for:
We've worked with hospitals, outpatient clinics, pharmacies, and doctors' offices to craft messages and voiceovers that provide even the most technical information clearly, articulately, and with a high degree of precision.
Our work can be heard from brokerage firms to credit unions across the nation. We'll help ensure your callers have a friendly and inviting guide as they navigate to the information they are seeking.
Educational Facilities
Whether you're a state university or a rural elementary school, you can rest assured your voice recording project will proceed smoothly from first bell to last, and that the results will always be worthy of the highest marks.
Retailers
Promote your products and services to a captive audience with thoughtful on-hold and after-hour messages that will be music to your listeners' ears. Don't neglect this important marking tool. It could make the difference between a sale and a missed opportunity.
Make Your Move
Finding a reputable company to partner with for your IVR voice recording needs doesn't have to be a mystifying ordeal. Contact Worldly Voices today to obtain a free quote and to learn more about how we can make the production process easier for you and your team. After all, customers aren't the only ones who want to get from point A to point B as efficiently as possible.