Voice Recording Services for Doctors' Offices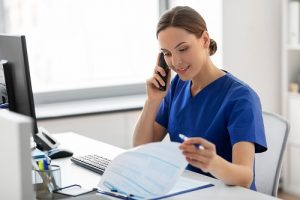 For a medical practice to be successful, it must provide its patients with healthcare services that are compassionate, thorough, convenient, and above all competent. While the relationships between doctors and their patients are the bonds that forge loyalty and generate the sort of word-of-mouth recommendations that attract new patients, those relationships are not possible without the support mechanisms that bring doctor and patient together. And that includes a robust call center. At Worldly Voices, we provide voice recording services for doctors' offices that provide important stepping stones between those reaching out to your practice and the healthcare you offer. When you turn to Worldly Voices for your voice recording needs, you'll be partnering with a company that has more than two decades of experience in the industry. We pride ourselves on being more than just a service provider. We're a partner that will work with you throughout your project from start to finish to provide the best collaboration possible.
Stay Connected With Your Patients
All of our audio files are produced at our professional studio, so you can rest assured they'll be of the highest quality, free of background noise, hisses, or any other imperfection. Our voice recording services for doctors' offices include:
Your audio files will be optimized for their intended platform (landline, cellular, online, etc.) and delivered in the non-proprietary format of your choice. What's more, we'll complete your project promptly so you won't have to wait long to update or upgrade your call center.
If you'd like to learn more about our voice recording services for doctors' offices, reach out to Worldly Voices today. One of our friendly staff members will be happy to answer all your questions. And if you already have a script you're happy with, you can upload it here for a free price quote.