Are You Looking for a Company to Provide Professional Voice Recording Services for Your Phone System? Trust the Experts at Worldly Voices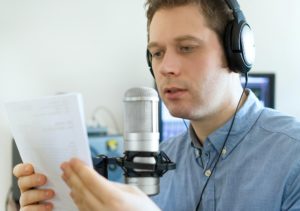 While today's consumers usually begin their service experience online, in many cases they finish it over the phone, especially if they require an additional level of guidance to complete their transaction. A company's phone system is therefore a critical part of keeping its customers happy and loyal. At Worldly Voices, we can provide professional voice recording services for just about any phone system your company uses. With more than 20 years of experience in the industry, we have an in-depth knowledge of all major interactive voice response (IVR) systems, including those manufactured by Vocantas, Pronexus, Altigen, Broadworks, and many more.
Our Services Are Perfect for Companies That Know Exactly What They Want…
When you turn to Worldly Voices for professional voice recordings, you'll be partnering with a company that has the expertise to do as much or as little as necessary to ensure your 100 percent satisfaction. If you already have your IVR system mapped out and your script is polished and ready to record, we'll provide a price quote and you'll be able to choose the perfect voice to represent your company. Our seasoned professionals are ready to bring your words to life in a friendly, articulate manner that will convey a sense of confidence and approachability. And we'll record your audio files in our technologically advanced Nashville studio, so you can rest assured they'll be of the highest quality.
…And for Companies Seeking Guidance Setting Up Their Automated Call Centers
If your company is setting up an IVR system for the first time, Worldly Voices can provide extra guidance to help you meet your communication goals. We can review your script and offer feedback. We can also help you organize your voice prompts so they provide a fully integrated level of interaction that takes into account all possible customer queries. If you need a little inspiration, we can even provide sample scripts to show how other companies organized their call centers. And once your audio files are completed, we'll send them in formats optimized for specific platforms such as smartphones, computers, and landline telephones.
We've Partnered With Businesses and Institutions of Every Type and Size
While some voice recording companies are run like production lines, providing the same basic level of service for all their clients, at Worldly Voices we believe in a more personalized approach. Whether you're a corner pharmacy, a Fortune 500 software company, a school district in rural Iowa, or any other organization that relies on a robust call center to keep the lines of communication open and customers informed, we will deliver services tailored to your particular needs. Some of the industries we've worked with extensively include:
To get your project started, contact Worldly Voices today. We'll give your business a voice customers can rely on. And you can take our word for it.